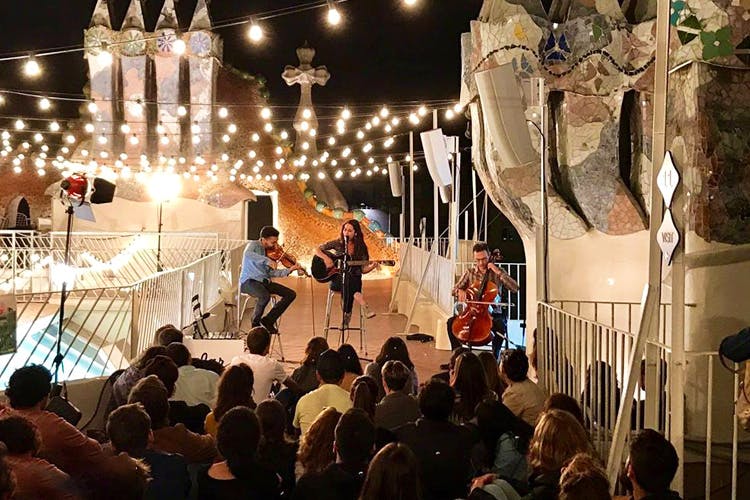 Make Your First Date Lead To More
Going on a first date? Make it count by ditching the usual restaurants and actually getting to know your date over these fun activities that are awesome ice-breakers.
Play Board Games
Get On Board cafe has a playful vibe where you and your date can bond over board games. Pick from their collection of over 700 games from across the world, and play for hours. Besides, you know how they say playing monopoly reveals the true colours of a person, so we think there's no better place than this to go for a first date. If you prefer to have your first date at a rooftop, chill at their outlet above Tollgate, which is the world's first rooftop board game cafe.
Enjoy A Secret Gig
Take your date for an intimate secret gig by signing up for an event by SoFar Sounds. Everything from the line-up of artists to the venue is not disclosed until the day of the show. So, be in for a few surprises and find out a great deal about your date's music taste as well.
Cuddle Some Doggos Together
A date spent in the company of doggos can never go wrong! Who could not be happy looking at those wet noses and wagging tails, after all? If the two of you share a mutual love for dogs, why don't you head to Happy Dogs Kennel, in Khanapur? It's super relaxing to cuddle these fur balls who will make it a date to remember while photobombing all the photos.
Compete In Arcade & VR Gaming
Step on the Dance Dance Revolution to see who's go the better moves or race them on a super-bike at Smaaash, in Inorbit Mall. You can also challenge them for a bowling contest and have a laugh over drinks, and food here too. If science and adventure are your two loves, walk a plank 50 feet above ground, on VR of course! Sounds like a plan?
Trek & Watch The Sun Set
A trek to Maula Ali Hills assures deep conversations, and serene atmosphere. This is a fairly easy trek with about 500 well laid out steps and a dargah atop the hill. Sit amidst the rocks and gawk at the city before you witness the sunset. That said, do keep in mind that the area is fairly isolated.
Fall In Love With The City
Touring the neglected gems of the city (like that of Mushk Mahal and Musi River Front) makes for an exciting date. Discover hidden gems of bazaars and quench your interests by absorbing knowledge from experts and historians at Hyderabad Trails. They conduct occasional food, music, poetry and night walks too, so pick the most ideal one and fall in love with the city (and your date) on the journey.

Explore Dinosaur Park
Fans of Jurassic Park and dinosaur geeks, this one's for you. Hang around with T-rex, Pterosaur, and Triceratops on a casual date at the Dinosaur Park. Take some cookies or doughnuts along and make it a picnic.
Walk Through Artsy Streets
Think your date could be your artsy soul-mate? Find out as you explore the street art at Necklace Road. While the traffic gets busier with every passing minute, grab some bhel or ice-cream from the street vendors and watch time slow down as you walk along the colourful walls here.
Comments