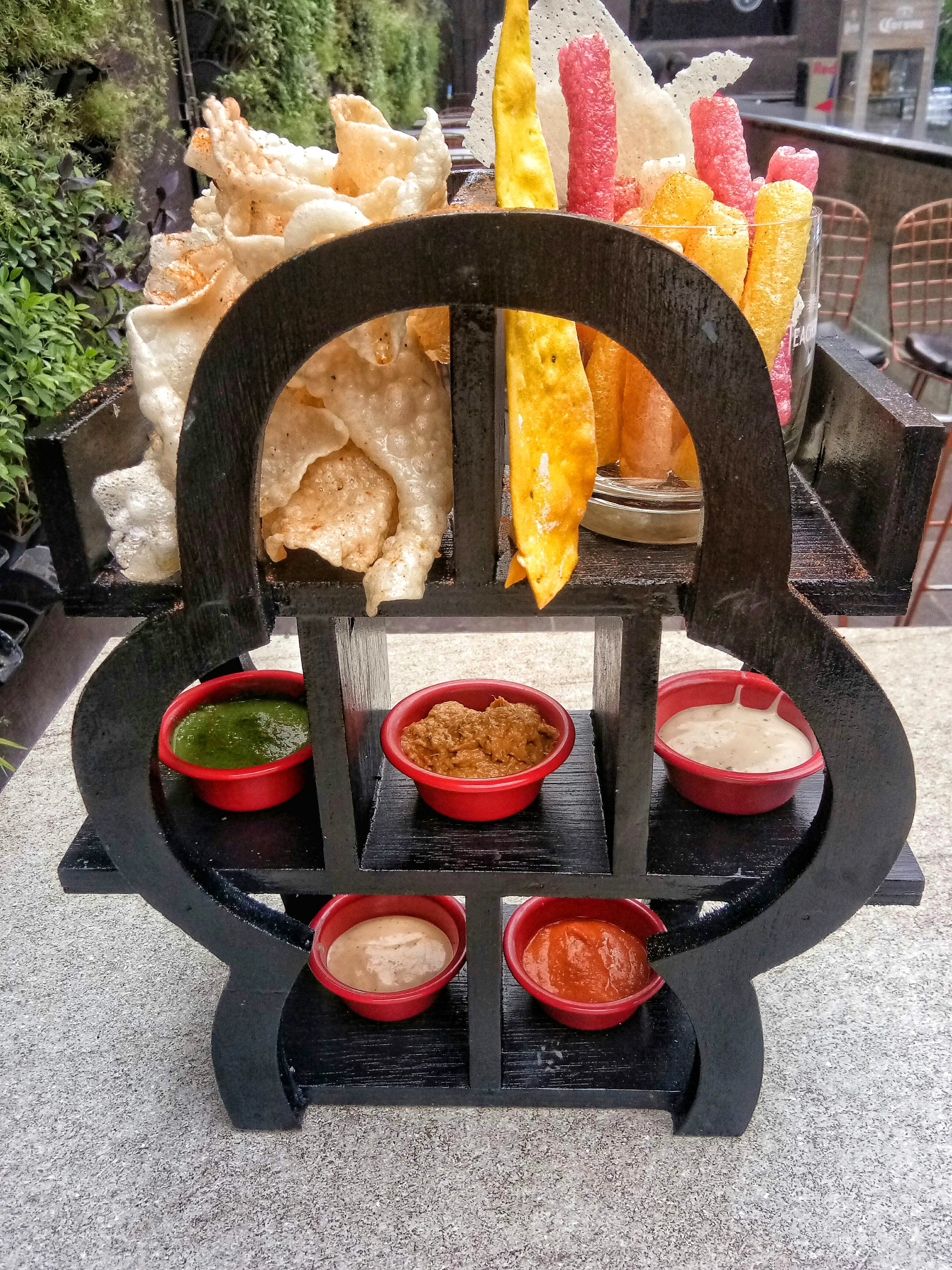 Get Ready To Be Farzified With Their New Monsoon Menu!
What Makes It Awesome?
*Indian Cusine in Vogue* Farzi Cafe is a renowned place in many cities, it has always interested me to try it out. The first time I visited Farzi was in haste and couldn't try the delicacies with satisfaction. Upon my second visit to Farzi, I did try their astonishing food especially the items from their latest menu called the "Monsoon Menu". Farzi has the tradition of offering Amuse-bouche to the guests and it comes with different flavours. I tried out the mango one. This is a french word and it means "mouth amuser", certainly getting the guests ready for the meal. Mocktails, Tried a bunch of Mocktails: Farzi Ok, Peach Iced Tea, Irish Smooch, Strawberry Lemonade, Litch Aampanna and Date Me. Amongst these loved the Strawberry Lemonade and Date me mocktails. Small Palates Starters, The Monsoon Menu is inspired by the local Telangana food and indeed has a "Farzi" touch to its Indianess. -Four Cheese Paniyaram, likewise the street side punugulu with a Farzi touch is a tryout. -Paneer Chettinad Taco was one such show-stealer. The Chettinad paneer filling between the crispy fried tacos went well, served with jalapeno mayo. Totally recommend this. -Galouti Kebab with airy Sheermal, being a mutton lover, I totally recommend this dish too. It is variably different from other Galoutis. And over the top chef would come to your table to glaze the Galouti with a pinch of castor sugar. The airy Sheermal was a delight to the eyes, yellow, fluffy and soft. The only thing is felt a little off was the sweetness to a little higher end. The Sheermal being sweet along with a little sweet Galouti could actually reduce on some sweetness. -Telangana Chicken Wings, these perfectly marinated chicken wings gave an outburst of flavours to the mouth. The only problem is that they were a little messy to eat. Pao or Bao, -Haloumi and Cream Cheese Burger, this delicacy will spellbind you with the heavenly taste. Not a fan of veg burgers but this thing made me say "Wow". -Tawa Chicken liver, this tasted out of the world. But a few bites only made me full, it's on a heavier side though. Mains, -Egg Ghee Roast Dosa with Podi Dust: This dish is my favourite because of the yummiest dosa I had. The egg roast totally had that ghee flavour and tasted beyond explanation. Totally recommend it. -Asparagus and Bokchoy Biryani: This rice thing was Okaish, can't really call it a biryani though. The only thing on the menu that didn't impress me was this. Desserts, -Kulfi Faluda with Basil Seeds: It was too good to describe. Sweetness, taste, flavour all optimum. Most recommended -Gulab Jamun 2.0: The show-stealer indeed. This dessert comes with a beautiful presentation of its making. The gulab jamuns are covered with Rabdi, saffron rabdi and nitrogen, and dry ice, sprinkled by pistachios and dry iced rose petals and Viola, Gulab Jamun 2.0 is ready. It is so beautiful that I starred it for a while before eating. Farzi will never fail to put you in awe with their presentation and taste and excellent service. Really appreciate the service of Akash for looking after our table. Service and hospitality are on point here. Monsoon menu is possibly a stealer. Most recommended. Go get Farzified. Happy Eating :)
What Could Be Better?
This place will never disappoint you but the rates are on a higher end.
Best To Go With?
Family, Big Group, Bae, Kids.
Comments