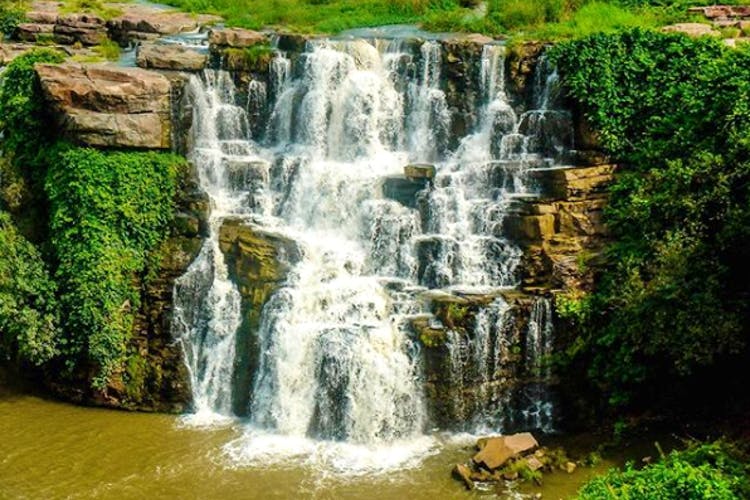 #GoHereDoThis: Top 5 Things You Should Do This Week
Got no plans? Our weekly guide will sort you out!
Plan A Trip To Ethipothala Falls
If you have visited Nagarjuna Sagar Dam, you might have checked Ethipothala off your bucket list. Located 163 KM away from Hyderabad, a visit to Ethipothala is nothing short of a trek. You have to climb down nearly 80 feet to reach the viewing platform. Plus, there is a little crocodile sanctuary at the foothills of the waterfall as it forms a lagoon which makes for a perfect breeding ground. So, if you want a quick getaway, and say hello to them 'crocs, get here.
Go For A Meal At Wok To Walk
Wok To Walk is a new eatery in Jubilee Hills that reminds you of NYC-style Chinese take-out eateries, where you can custom make your food. Sounds cool, right? That's not it. The best part of this place is the open kitchen where you can witness the chef stir up a fiery storm which is pretty impressive to watch. The ambience is cheerful and bright as it's done up in the hues of red and yellow. It's legit comfort food in takeout boxes.

Check Out Pitstop Go-Karting
Ever wondered there's nothing much to do on Necklace Road? Sure you can score great views and take long walks but here's something more exciting. There's a new go-karting arena — Pitstop Go Karting and we recommend hitting it up with your squad. Since it's a new place, you can expect smooth tracks and powerful go-karts. For INR 300, you can play seven laps. Which means, you've got to throw a birthday party here. We mean you don't have to break a bank.

Buy Dresses From Swadesi Wardrobe
Ladies, if you have been on the hunt for dresses with Phulkari or Gotta Patti embroidery, you've got to check out Swadesi Wardrobe. These folks have a fine collection of chikankari kurtas and anarkalis, dress materials, dupattas, and bags. Sourcing all their products from Lucknow, Kashmir, Pakistan, etc, you can only expect the best.

Shop For Antique Furniture At Antique Loft
Antique Loft has furniture exactly like the ones in those royal era movies. Tucked between the buildings on Road No 10 Banjara Hills, get your hands on furniture, artefacts, and home decor. They use the highest quality of timber to craft, cut, and design every piece they sell so you know they are sturdy and durable. From dressing tables, beds, sofas, to dining tables and bookshelves, get your hands on vintage designs and antique furniture at Antique Loft in Banjara Hills.

Comments