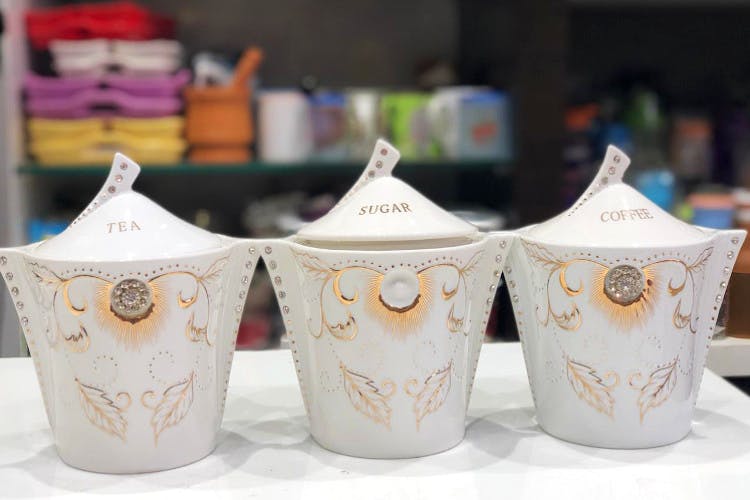 It's Wedding Season! Gift Fancy Crockery & Decorative Figurines From This Begum Bazaar Store
Shortcut
Gifting crockery sets, home decor and perfume will never go out of fashion, so when we found Himalaya Crockery & Gift which houses a variety of those, we couldn't have been happier.

What Makes It Awesome
Himalaya Crockery & Gift is a two-storey shop that has multiple treasures to make your home pretty. This store is an extension of a 50-year store by the same name and is owned by Suresh Kumar Mali. It is a paradise for all things ceramic, poly fibre, and glass. We found antique vases with faux gold intricate designs, beautiful figurines like that of Buddha, vintage dancing girl, and of animals like stags and horses, ceramic coffee bowls studded with stones, old-fashioned perfume bottles and jewellery boxes (with three compartments) of different sizes made from German silver in vibrant colours. There is also an entire floor for fancy dinner sets ranging from INR 2,000 to INR 55,000.
Get period piece or fashionable cutlery for practical or decorative purposes, as well as unique items to deck up your accessory closet. Plus, there's Feng Shui fish here, which is a Chinese symbol of wealth and a pretty rare find. So, for all the unique gifts this wedding season, you know where to rush. Although the prices may seem to be on a steeper side, they provide five-year guarantee on certain items like German Silverware.
Pro Tip
The array of attractive products makes it really hard to leave this store empty handed upon entering it, so go only when you're willing to splurge. Keep an eye out for the deals they often have and get these beauties for much cheaper than they're worth.

Comments