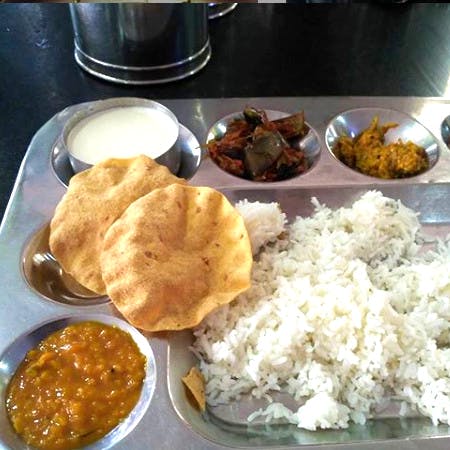 Fuss Free & Delicious Andhra Meals At INR 150! Who's Up For This Happy Meal?
Shortcut
Lakdikapul is one of the busiest places in Hyderabad. If you find yourself hungry in the middle of this whirlwind, take an auto, and head straight to Hotel Indu Deluxe that serves home-style meals on a budget.
What Makes It Awesome
Once you enter Indu Deluxe hotel at Lakdikapul, you can see all the tables set with thali-style plates. You are greeted by friendly staff who don't fuss over the menu because here, the menu has been fixed since years — something patrons enjoy since they know what to expect. The food served is Andhra-style, with spices in perfect proportions. The only question you will be asked before your meals are served is if you prefer a North Indian or South Indian Thali. The difference between the two is that rice is replaced with two rotis in the North Indian thali, with all other accompaniments remaining the same. The staff then proceeds to serve guests with their daily specials. A regular day's menu looks like this — two varieties of vegetarian curries, a chutney, rasam, and sambar served with hot rice, ghee, and but of course, papad. The thali itself is all-vegetarian, but one can order non-vegetarian dishes on the side. The roast chicken, ginger chicken, and egg curries at this joint are particularly famous. Sweep the thali clean with their amazing thick set-curd, something you would rarely find at restaurants.
Indu Deluxe Hotel is popularly known as MLA Hotel among locals. The name came as it's close to The Assembly. During the sessions, several MLAs and ministers flock to the restaurant for quick meals, and hence the name. Head to this place if you're one of those people who's always confused about what to order - their set meals won't disappoint you, or your wallet.
Ask Jagruthi a question