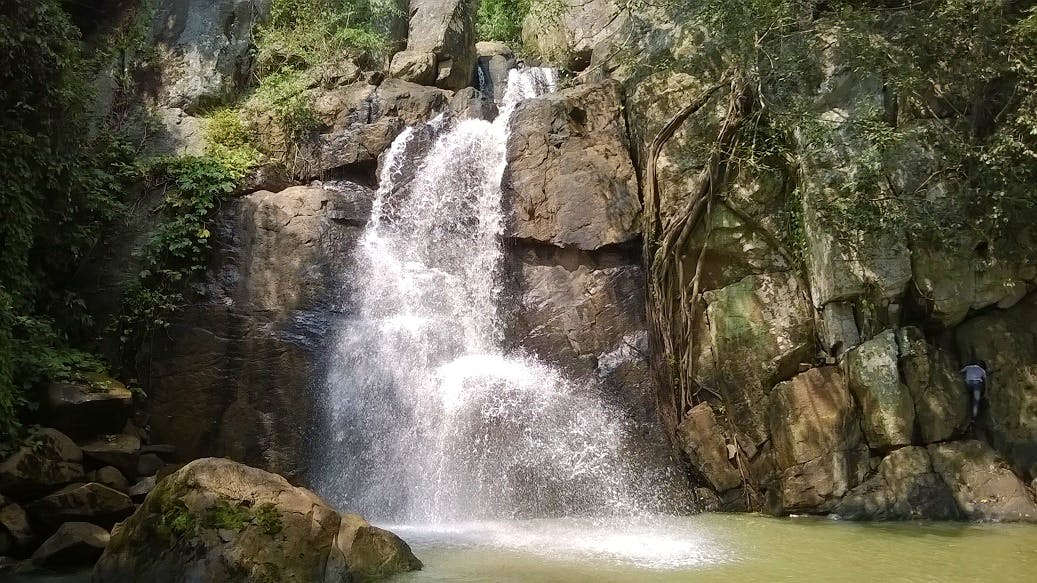 Beach Parties To Amazing Gorges: These 5 Offbeat Destinations Are Perfect For A Quick Break
Being a city slicker is tough work and sometimes we just need to get away from it all. Luckily for us, Kolkata offers plenty of quick escapes. So pack your bags and set out on a weekend adventure.
Duarsini
Duarsini, located close to Burdwan on the foothills of Purulia district, is ideal for those who love isolation. You can sit endlessly watching the Satsurang River flow by surrounded by a forest full of shal, shimul, piyal and palash trees. The real attraction here is the tribal villages where you can get to study about the unique cultures and traditions of Saonthal, Munda, Shabaradh, and Kheriya communities. Staring at a starlit sky, listening to the madol from the tribal villages} at night makes for an enchanting experience. The jungle here is home to many wild animals like bear, wild boar, elephants, hyena, and wolf. While there, you must visit the Bhalo Hills, 3 km from Duarsini that has remnants of an ancient civilisation.
How To Reach: The distance from Kolkata is 178 km, approximately 7-hours drive from Kolkata by road. The closest railway stations to Duarsini are Purulia and Ghatsila. The trains to these destinations are operated by Southeastern Railways.
Bishnupur
The temple town of Bishnupur has rich history surrounding it. If you are a history buff, you must visit Bishnupur for it has more historical temples than any other place in West Bengal. It's also interesting from an architectural point of view. When you go temple hopping, you will notice four distinct types of temple designs. It is well known for its Hindu temples made from local terracotta, such as the pyramid-shaped Rasmancha established around 1600. Ornate carvings adorn the walls of Jor Bangla Temple. Madan Mohan Temple is decorated with scenes from Hindu mythology, including the Mahabharata. The place is also famous for its terracotta jewellery, pottery and artefacts. The Bishnupur Utsab is held around December every year, which includes a classical dance and music festival in recognition of the Bishnupur Gharana in music.
How To Reach: About 5 hours away, Bishnupur is well-connected by both rail and roads. Most travellers prefer the Rajya Rani express from Howrah station to Bishnupur.
Gongoni
Located in a small town of Garhbeta in the West Midnapore district, Gongoni is known as the Grand Canyon of Bengal. It's a fascinating gorge made of red soil on the banks of River Silabati. Years of soil erosion by wind and the river have carved and chiselled the gorge into a row of jagged cliffs peppered with white sandbanks, making it look uncommon and exceptional. You can easily descend down the canyon with the help of a staircase recently built by the state government. While the top portion of the gorge is made of red soil, as you go down the hue changes to yellow. If you want amazing pictures of the canyon, be sure to visit it either during early morning or late afternoon when the sunlight is mellow making the gorge glow like gold.
How To Reach: Garhbeta is 133 km away from Kolkata. It is a 4-hour drive via Santragachi, Arambagh, Goghat and Kamarpur to reach Garhbeta. You can also take the Rupasi Bangla Express from Santragachi Station at 6.25 am to reach Garhbeta around 9.20 am.

Daringbadi
Odisha may be known as a hot region but it also has several mid-range peaks with cool and chilly regions around them. But did you know that it has a hill station where the temperature drops to zero degrees in winters? Well, now you do. Daringbadi, popularly known as the 'Kashmir of Odisha', is the only place in Odisha where the dew freezes to ice during chilly winters. Your Insta will get rave reviews with the area's picture-perfect waterfalls, the tall pine trees and plantations of coffee, turmeric, and pepper.
Situated at a height of 3,000 feet above sea leavel, in the Kandhamal district, around 71% of the land here is covered with thick rain forests. Apart from revelling in the scenic beauty, you can also visit the Belghar Sanctuary nearby where you can sight many wild animals, especially elephants.
How To Reach: You can take a flight or train to Bhubhaneshwar from Kolkata. From there you can hire a private cab or avail the bus service to cover 250 km distance to Daringbadi.
Pirates Party Adventure Sail
If you are a beach bum, you'll love this. Say ahoy to a pirate-themed adventure party. Sail upon a wooden rustic cruise boat through river deltas, creeks, and jungles into the backwaters of Bengal heading towards a beautiful white sand beach called New Bakkhali beach island near Sundarbans. Apart from the boat stay, you get to enjoy other activities like camping, jungle safari, bonfire with bamboo kebabs and a night cruise. The Adventure Sail covers a number of hidden islands of Bengal including Bhagbatpur Crocodile Island passing through the Lothian Island. Don't expect to spot any tigers in this region but if you are lucky enough you might get to see the River Dolphins in the Southern Bengal Delta and other varieties of sea life.
How To Reach: A 3-hours drive from Kolkata to Namkhana Station, from where you board the cruise and sail through the depths of wild forests for another 3 hours or so to reach the barren island.
Comments