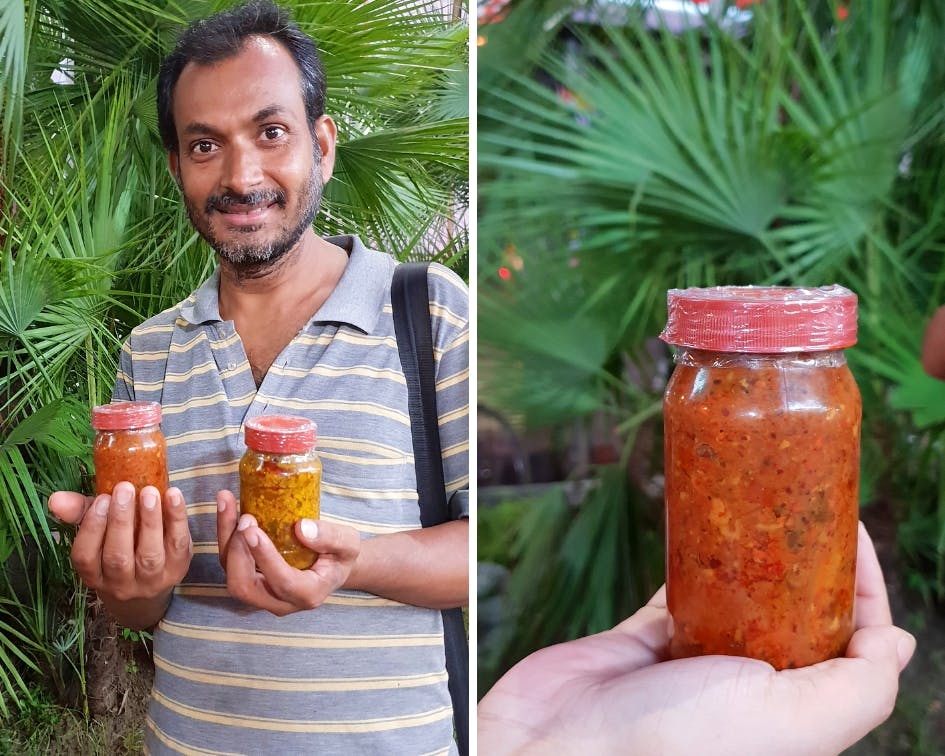 Tickle Your Palate With This Travelling Vendor's Homemade Pickles & Condiments
Shortcut
The weather's perfect for those afternoon pakoras, but without the pickle it's a sad story, tbh. If you are bored of those store-stocked mass produced aachars or missing your grandma's homemade stuff, hit up this one-man pickle show.
What Makes It Awesome
Flit in or out of Lake Mall in the evening, and you'll find Raju-da standing in front of the mall selling pickles and condiments. A favourite with many old customers who frequent this area, Raju-da and his bag of pickles is a constant presence here every evening from 8pm onwards. Homemade and lip-smackingly delicious, his is bag is full of new and seasonal flavours. From posto tok jhal (mixed pickle with hot and sour poppy seeds paste) to kul-aamshotto (plum and mango leather mixed pickle), you'll find something to suit every mood and season. Available in bottles of 300 gm to 450 gm, these pickles are priced reasonably between INR 155 to INR 180.
What Could Be Better
It's difficult to catch him during day time or else where. Somewhat like a Cinderella story, you can only find him between 8 pm to 10:30 pm in front of Lake Mall.
Pro-Tip
Best of all, Raju-da also home delivers pickles across the city. Of course, you'll have to check your location with him for possible delivery. Extra charges are applied for home delivery.