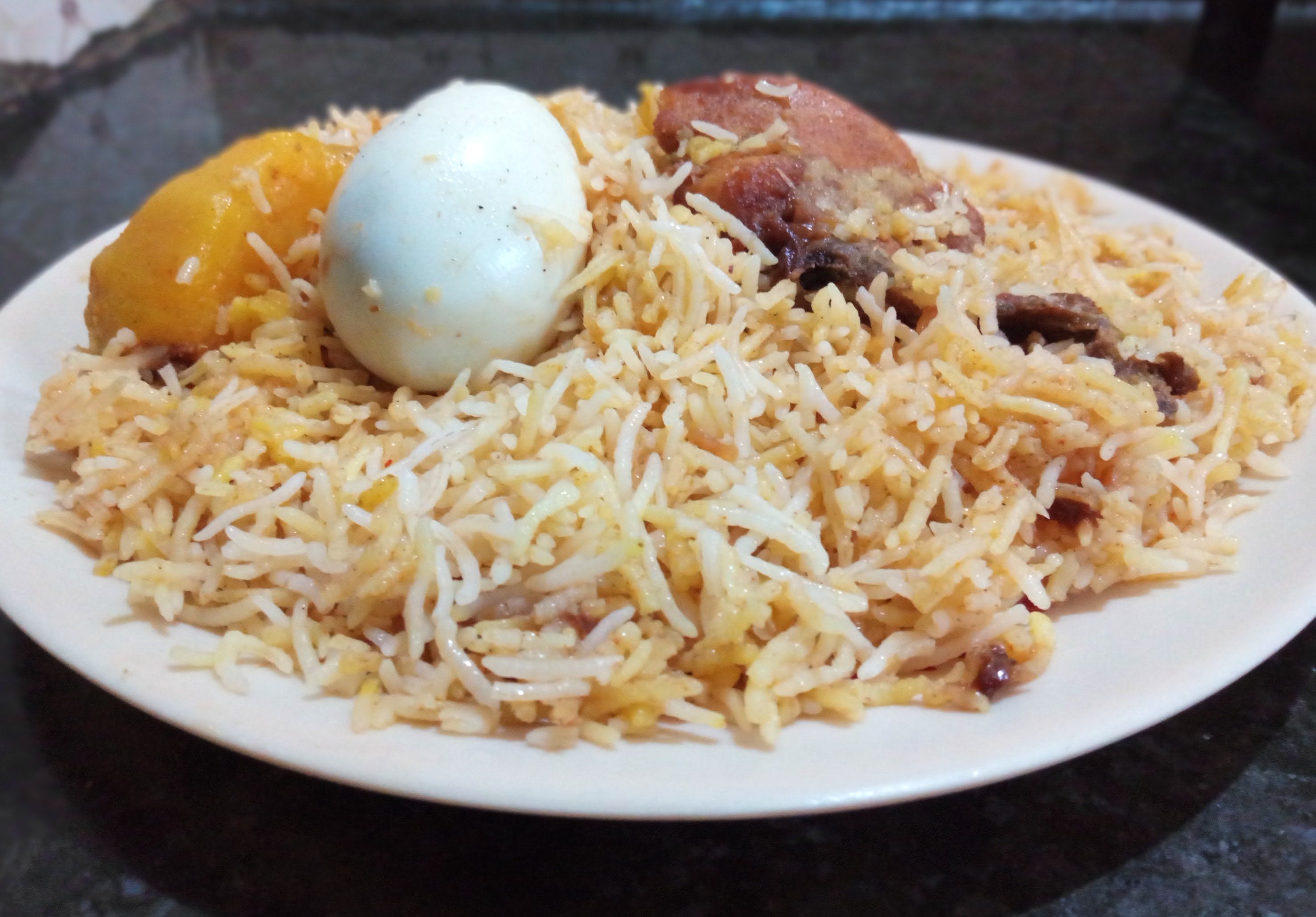 Biryani Lovers, Here's The Ultimate List Of The Most Favourite Biryani Joints In Town
Craving for a plate of the most aromatic, heavenly and flavourful Biryani? Check out our list of where you can get the best biryani in the city.

Arsalan
For biryani lovers this place is nothing less than a paradise, we love Arsalan for its Kolkata biryani which comes with a big piece of potato and heaps of rice and meat. The multiple outlets of Arsalan make it convenient to get your hands on this sinful dish from any corner of the city. Order the 'special' biryani for double the amount of meat.
Aminia
Since 1929, Aminia has been cooking up calorie-laden biryani in its retro interiors that has us coming back for more. Located in the very crowded New market area, one can't simply afford to miss out on Aminia's Biryani while shopping or going around this area. One of the city's iconic biryani joints, Aminia's biryani is as satisfying, filling, hearty and flavourful as always. You get mutton and chicken biryani at INR 160. Their mutton Biryani is the hot favourite amongst visitors and is best teamed up with Mutton Boti Kebab, Chicken Chaap and Mutton Burra Kebab. Finish it up with their custardy-smooth firni.
Zam Zam
This small joint on Park Circus opposite Missionaries of Charity is one those iconic places that serves the most delectable biryanis in the city. The beef biryani (INR 85) here is sublime, with a meaty flavour permeating the rice, succulent beef pieces and the mandatory chunk of potato. Team it up with their must-have Beef Malai (tender beef pieces in a rich and sweetish cashew gravy which has a topping of malai) and you have a meal for a king to scarf.
Shiraz
With several outlets across the city (oldest one is at the Mullick Bazar Crossing), this is kind of an institution for Mughlai cuisine in this city. Serving the people of Kolkata since 1970, Shiraz's legacy is such that there'll hardly be a person you come across who hasn't tasted their biryani. Although the place boasts of an enormous menu, of which everything deserves a try at least once, Shiraz's biryani with the chicken chaap should easily be on your 'must eat before you die' list.
Zeeshan
If you're game for some spicy, make that, very spicy biryani, make a dash for Zeeshan. Zeeshan's biryani is known to be spicier and greasier than most other places in the city, so be sure to go there either when you're super hungry or when you're not on any kind of diet, and can handle a little spice. Along with the biryani, get their melt-in-the-mouth reshmi kababs, perhaps the best you can get in town.
Nizam
The first thing which comes to mind when talking about Nizam's is its perfect kathi-rolls, but they also serve biryani platters to die for. Famous for their beef biryani, Nearly everyone who passes Nizam's is drawn in to the place simply because of the aroma, even though the place has no real ambience to speak of. Although you will hardly ever see this place running empty yet it takes only a maximum of 5-10 minutes for your plate of Biryani to arrive. With chicken, mutton and egg options within INR 220, you can explore every kind of Kolkata biryani this place has to offer.
New Aliah
Located near Paradise Cinema in Esplanade, New Aliah dishes out some of the best biryani, kebab and phirni that the we can vouch for. A word of caution though, the biryani here is not so light on the stomach as it is on your pockets. Although it tends to get very noisy in there, the biryani they serve will more than make up for this little inconvenience. Don't forget to try the mutton tikkas with the biryani, and thank us later.
Rahmania
One of the oldest biryani joints in Kolkata, Rahmania is known for its mutton delicacies and kebabs. The speciality of Rahmania lies in its subtle mixing of spices, possibly influenced by Kerala (as it was established by a Malyalee with a great taste for all things Mughlai), where spices are blended and used skillfully. You only have to try the Mutton Biryani with Haleem, Mutton Rezala and Firni to understand why it's so popular.
Manzilat's
Place an order with Manzilat's once and chances are you will be hooked on for life. Run by Manzilat Fatima, the great-great granddaughter of Wajid Ali Shah – the tenth and last nawab of Awadh, her biryani will you licking your fingers long after your plates have been wiped clean. It is long-grained, light, non-greasy, fragrant and the meat is cooked to perfection. Manzilat's caters to an order quantity that can serve 10 – 25 people on a pre-order basis. You can order Kalkatta Shahi Biryani (chicken or mutton) with complimentary burhani for INR 2,500 for 10 to 12 people and INR 6,000 for a group of 20 to 25.
Royal Indian Hotel
Royal's biryani is legendary, however it is one of those very few places in the city that do not serve eggs or potatoes in the biryani. Having said that the taste of the biryani more than makes up for it. Team it up with the chicken reshmi malai kofta or murgh musallam from the menu for a royal meal. If you hate the taste of cinnamon in your biryani, this is the place for you. They use only cardamom, saffron and clove to achieve a subtle flavor.
Comments