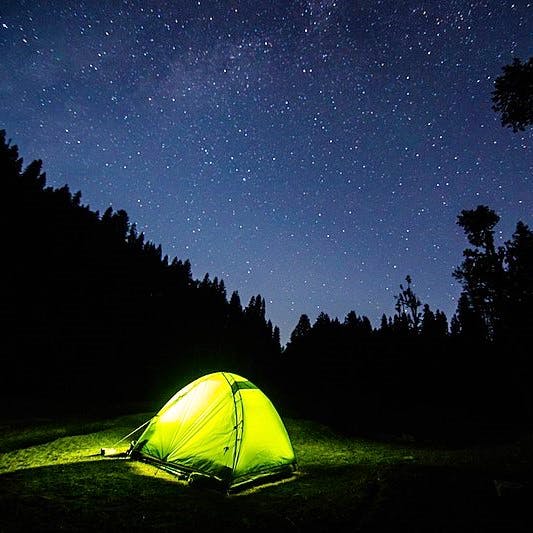 Boss Not Giving Time Out? Sign Up For These 5 Short & Easy Himalayan Treks To Destress
So you've used up most of your leave days, and don't have much left. But you really want to take some time off and chill out far away from city life. Here's a suggestion - why not try a short, easy trek somewhere in the Himalayas? We've compiled a list of five treks that are coming up. These are all highly doable, even for beginners. So sign up and book your seat now!
Nag Tibba
This is a short trek with just a one day-night itinerary which will take you to the top of a ridge peak in the Nag Tibba range of the lower Himalayas. Once you reach the campsite, you get treated to a refreshing cup of tea made with wild mint plucked from the ground. Stay overnight and wake up to a stunning view of the sunrise and the Nag Tibba massif in the morning light. If it is a clear day, you may catch Mussoorie in the distance. Part of your trek route will be through oak and cedar forests, and charming Himalayan villages. This is not a fixed departure trip and requires a minimum of 4 persons to book.
Binsar
This is perfect for a long weekend break. You arrive in Kathgodam and start the climb up mountains through pine forests. You get to see the Binsar Wildlife Sanctuary, and spot barking deer, leopards, the Himalayan black bear, and the sambhar. All the time with views of snow-capped peaks of Nanda Devi, Trishul, Nanda Ghunti, Panchachuli, and the Kumaon Himalayan range.
Dayara Bugyal
This one is slightly longer - you need about a week off. The 6-day trek to Dayara Bugyal will take you through rolling Himalayan meadows surrounded by iconic peaks of Bandarpoonch, Srikant, and Kala Nag. The Dayara undulating emerald green meadow is seriously beautiful. You may even get to sample local food and culture at a homestay, if any are available. It's an ideal trek for beginners and families.
Kedarkantha
Want a truly snow-laden Christmas? Sign up for this trek. It's on from December to April, and you get to plough through virgin snow, stay in pretty campsites. The base camp has stunning 360-degree views of mountain summits. You will get a high when you reach the Kedarkantha summit with all the summits are at your eye level.
Phulara Ridge
This is a must-do as ridge treks are quite uncommon in India. The trail starts from Sankri in western Uttarakhand (the same base as Kedarkantha). From here, over two days and two camps, you climb up to the Phulara ridge. The ridge trek takes almost an entire day and the landscape is stunning. And we can guarantee that you will feel like suddenly breaking into The Hills Are Alive (from The Sound Of Music) on the alpine meadows!
Pro Tip
Most of these treks are easy to moderate. But you should still make sure you do some amount of exercise to get ready. For instance, build up cardiovascular endurance and lose some weight with brisk walks and jogs every day.

Comments