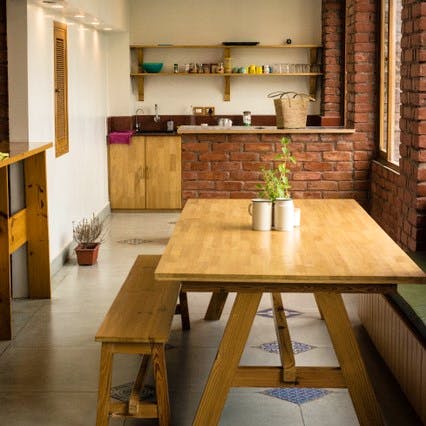 Check Out These 10 Spaces In The City That Are Making CoWorking The New Norm
Don't have an office, or just bored of regular mind-numbing cubicles? Whether you're a freelancer or startup or an entrepreneur, here are 10 places in Kolkata where you can rent a desk or even an office with all the necessary paraphernalia without worrying about any overhead expenses.
Motherland Studio
If you love what you do, then start loving where you work from. Motherland Studio (a venture by Brown Boy) gives you amazing amenities with flexible open seatings and a fantastic view. They promise to provide you with a friendly atmosphere, barrier-less office culture without any hassles of setting up a workplace. The studio also houses an art gallery giving aspiring artists a platform to showcase their art. Bringing people from similar working backgrounds together, hence acting as a networking hub. During the weekdays the studio is a co-working area with open desks as well as a private and meeting room. Weekends at Motherland Studio are inclined towards events that maximise the creativity that this place exudes. You will find a diverse groups of freelancers, other independent professionals and entrepreneurs working together. The monthly rate starts from INR 7,000 per head.
Easy Daftar
Their spaces in Salt Lake and Park Street provide options for open desk, dedicated desk, and private cabins and sofas. They have super-fast WiFi and informal meeting areas. Don't have a laptop? They will rent one to you and also provide full IT and admin support. If you feel peckish, they have a meal-at-desk option. Costs are INR 3,500 upwards. Students and women entrepreneurs get a discount.
Nwook
Nwook offers work and study spaces by the hour across four different locations in the city some of which are amazing. We would love to pull up a chair at the Nwook at What's Up Cafè on Southern Avenue with a lovely view of the Lake; and at the one located in The Park which is by the poolside lounge. All their outlets have WiFi, AC, beverages, sockets, and meeting rooms. Cost per hour starts as low as INR 50. It's the diversity of the community at their spaces that's stimulating and offers a strong community atmosphere.
Awfis
Are you a freelancer whose clients drop by at the last minute? No problem! Thanks to Awfis, you can now book meeting rooms in the nick of the time. Awfis offers 3 locations of coworking spaces in Kolkata (Camac Street, Rajarhat and Salt Lake). With its presence across major cities and business hubs in India, Awfis has been quite a familiar name among entrepreneurs. With a focus on 3Ps (People, Proximity and Performance), they aim to bring workspaces closer and make them more accessible to people. Besides all the regular amenities, they have a collaboration zone that consists of meeting lounges, rock pods and provides you with the right activity based ambience fostering productivity. Depending on your membership plan, you also get complimentary Meeting Credits which can be redeemed across meeting rooms in any Awfis location. With prices starting from INR 400 a day, Awfis offers a flexible and hassle-free work environment.
My Cube
My Cube is a coworking space in Kolkata near Minto Park. It is an 1800 sq ft office space with a seating capacity of sixty. The place has got perfect lighting, acoustics, vibrancy, and cleanliness. This co-working arena has colourful and quirky interiors with all basic amenities like Wi-Fi, storage, mailing, reception service, CCTV surveillance, courier service, printers, beverages, cafeteria, library, and a gaming zone. A major plus of this co-working space is that it is centrally located which makes it a great pick for the everyone.
Smartworks
SmartWorks has spaces across India. In Kolkata, they are at two locations in Salt Lake. They don't just give you a space their support services are genius – if you need help with delivering documents or depositing a cheque, they have a gofer on call. They have an in-house receptionist, and a cafe which lets you order and gets the beverage to your desk. There's even a receptionist if you need to make an impression on clients. They can tailor-make their packages based on individual needs – for start-ups to designers and even sound recorders.
Makersloft
This amazing 2,000sqft space is open, collaborative, inspiring and stimulating. It is actually a maker space, the very first one in East India so you'll be surrounded by interesting people – from artists to students. They have hi-speed WiFi, a coffee and tea machine, and a fantastic ambience with lots of cool stuff around. Whenever you need a break from work, just head over to any of their workshop areas and check out all the exciting stuff people are up to – the LEGO room, the wall with amazing tools for DIY projects, the natural textiles space, 3D printers, and many more.
Regus
Part of a chain, Regus has workspaces that are on the premium side in four different locations in Kolkata. They have lounge areas, lockers, printing and scanning facilities. Open spaces with dedicated desks are offered alongside conference rooms and private offices for individuals, teams and those looking to network.
Openhouse
Openhouse is a co-learning space where you can teach as well as learn something new. At first glance, it seems like a hipster library. Think a short, wide set of stairs by the window where you can sit back and study, or small colourful round tables with movable white boards for group study sessions. The prettiest are the classrooms – therein lies the charm of Openhouse. The geometry in the way they have designed their classrooms is fascinating – the tables are angled such that every student can see each other and the teacher. The most interesting part is that everyone can be a teacher here, so say if you want to take a small class with your college juniors, you can rent one of the rooms in Openhouse and invite all of your students in! The pricing scheme is pretty conducive for teachers who are just starting off – instead of a fixed fee, the space rent comes for a percentage of the amount you charge your students and the number of students who turn up.
Cokarya
Cokarya is the most flexible amongst all as it provides a personalized quote for you according to the services and facilities you need. You pay only for the amount of space you need in terms of cabins and workstation. Any changes to your requirements in the future would also be taken care of! You can book your workplace for a day or even for a year with absolutely no monetary hassles. With 6 locations in Kolkata (AJC Bose Road, Dalhousie, Kasba, Park Street (42A & 75C) and Salt Lake), Cokarya has created an ecosystem to help you find new ideas, customers, vendors and investors. Prices start at ₹2500 a month.
Sienna
Get ready to fall in love with the newest (and coolest) coworking space in town. Sienna (Park Street) will open its doors to public on May 27th this year. The newest kid on the block, Sienna is a a dynamic space that offers a bistro, event-hosting platform and a dedicated coworking area. You can choose between a single seat in a quiet room or a cabin for 4 or the conference room for a meeting. Amenities include high speed internet, multi functional printer, projector, courier, a concierge facility, security and not to forget food by our favourite Sienna Cafe. Watch this space for more.
Ask Fatema a question