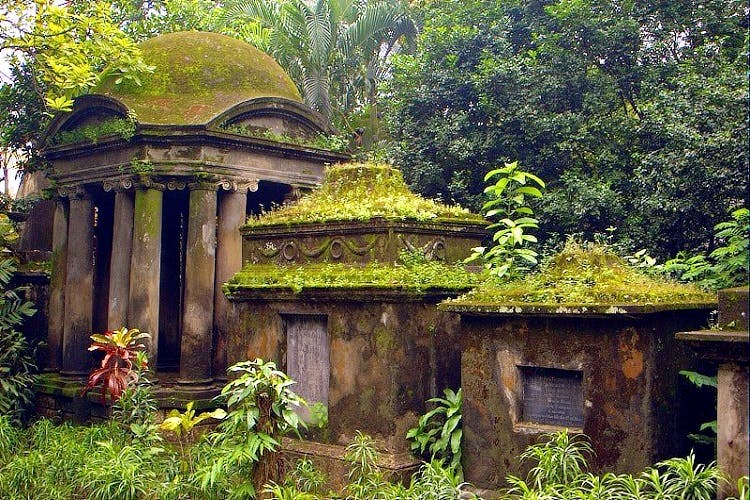 Seven Out-of-the-Ordinary Tourist Places In Kolkata Every Local Needs To See
Ten-Second Takeaway
Tired of visiting Victoria Memorial and St Paul's Cathedral? Here are five stunning places that every local in Kolkata needs to visit at least once.
Park Street Cemetery
This open ground, dating back to the Raj-era, is steeped in history. It is a photographer's haven with graves that date back to the 1700s. The Gothic-style architecture will interest anyone who is into design.
Where: Park Street
When: 11AM–6PM on all days except Sunday which is 2PM–6PM
Pro Tip: Avoid going during the summer and monsoon months. You will enjoy it most in winter.
Mother House
Established by Saint Teresa of Calcutta, Mother House was her home in the city for many years. This is also the place where she is laid to rest. Still run today by the Missionaries of Charity, it houses a small museum where you can see her personal items which reflects her simple life.
Where: A.J.C. Bose Road
When: 10AM–12:30PM, 3–6PM
Pro Tip: The spot is considered sacred by many so it is recommended you dress appropriately.
Netaji Bhavan
Directly opposite Forum Mall, you have probably seen Netaji Bhavan but never thought to step inside. Intriguing and full of insights into Netaji's life and colonial India, on display are his handwritten letters, family photographs and personal belongings. Most interesting is the path showing the freedom fighter's escape route and the car in which he escaped, and his last known location before he disappeared.
Where: Elgin Road
When: 11AM–4:30PM every day, except Monday
Pro Tip: Carry some extra change; the entry fee is approximately INR 20-30
Carmelite Chapel
One of the most serene locations in the city, this tiny chapel is an oasis that will make you feel at peace in the midst of the chaos the city. The chapel is small and quiet with minimalistic architecture. Be sure to stop for a moment outside the grotto.
Where: Outram Street
When: 09:30 am – 06:30 pm every day
Pro Tip: You can drop in a 'Prayer Request' in the Petition Box.
Tollygunge Homes
Run by the East India Charitable Trust, this sprawling seven-acre property is home to over 30 old folks. Completely free, the home is working towards becoming self-sufficient with residents engaging in gardening and other leisurely activities. Take a break from the hustle and bustle of city life and enjoy the greenery, connect with nature and old-world charm.
Where: Tollygunge
When: On request
Pro Tip: You can carry some goodies for the residents or contact the organisation if you want to volunteer at or contribute towards the Home.
The Great Banyan Tree at The Botanical Gardens
The magestic Great Banyan Tree is over 250 years old and should be on your list of things to see on your next day off. Located in the Botanical Gardens, it spreads over 4 acres leaving   you uber confused – is it a forest or a tree? Fun Fact: the tree survived two cyclones. Something so resilient deserves being taken a look at.
Where: A J C Bose Road
When: 10:00 am – 05:00 pm
Pro Tip: Generously lather yourself with mosquito repellant and sun screen – you'll thank us later.
Sea Ip Church - A Chinese Temple
This two-storeyed temple in China Town is representative of the Chinese culture in the city. Built in 1905, the first floor is stunning and hosts the deities. You can't go into the main shrine area but you can still take a look at a set of weapons, and images and statues of Chinese gods and goddesses that the temple houses. Take a peak at the ground floor social club where you can find copies of Kolkata's weekly Chinese newspaper (the only one in India) and members of the community enjoying themselves.
Where: Tiretta Bazaar
When: It's open all days
Pro Tip: If you have a local friend who can take you on a guided tour, there's nothing like it!
#LBBTip
Wear comfortable clothing and carry loose change for small expenses you may incur. If you have difficulty finding the places, any local will lead you in the right direction so don't hesitate to ask around.
Comments