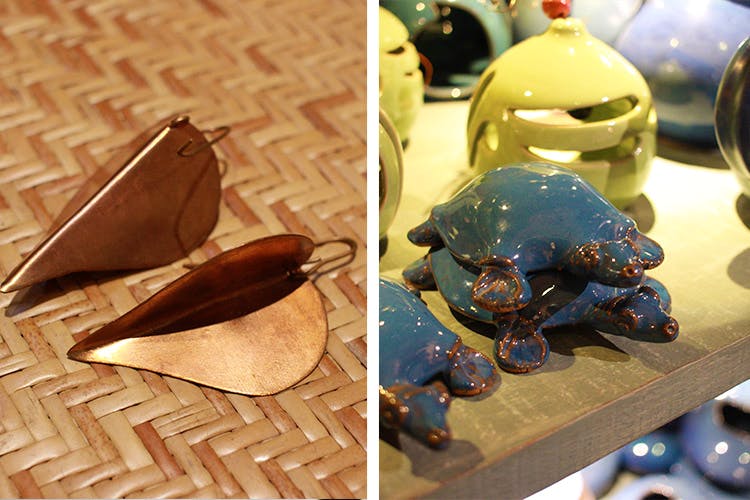 Looking For A Gift For Your Bestie? These Boutiques Have Funky Earrings, Totes & Superhero T-shirts
Kurtis And Scarves At Gulzar
From cotton and silk saris and kurtis at ridiculously affordable prices to printed cotton tote bags and delightful scarves, Gulzar is a gem hidden in Chakgaria. Check out their printed cotton bags and saris.
Urban Haat
If you want bright colours with a strong desi streak and affordable prices, head to Urban Haat. You can pick up an entire outfit for your sibling – kurti, leggings, jewellery and bag – for less than INR 2,000.  There is a special rack of kurtis, leggings, palazzos, jumpsuits and scarves at flat INR 500 (the sale merchandise is going pretty quickly, so go fast).
Byloom
Sarees, fabric, stoles, bags, jewellery – as their tagline suggests, Byloom is all about weaving tradition. You'll have access to plenty of variety here, so make sure you take out enough time to actually pick out the perfect gift. We recommend you pick up the scarves, with a bag of the handcrafted soaps.
Quirky Bags From Sasha
Around since 1981, Sasha is one of the first fair trade shops in all of India. Most of the artisans they work with are from West Bengal. There's a lot you can pick up here. But we especially loved the bags, stoles and jewellery. The bags are as low as INR 340, and scarves are INR 280. Do check out their collection of wallets and bags in Shantiniketan leather. They close early on Sundays – at 1pm between April through August. Normal hours resume on Sundays between September through March.
Organic Cottons From Biome
Natural dyed garments and organic cotton – now that's a pretty special and considerate gift. Even the finishing on each of their garments uses upcycled trinkets.
Bow Ties And Ceramics From Sienna
What's special about Sienna's store is that their products are simple and elegant, which anyone who appreciates subtlety will connect with immediately. Pick up one of their blue tinted cups (some come with lids), or choose from their collection of copper jewellery, funky bow ties or limited-edition saris and dresses.
Marvel And Anime Tees From F-Bloc
T-shirts, boxers, hoodies and mugs drawing from both the latest and timeless pop culture references to action figures and decor, this underground shop is a lot of fun to browse through. If you love Marvel characters or need to pick out a gift for someone loves collecting action figures, F-Bloc is the right choice for you. They let you play games here and listen to some music.
Comments