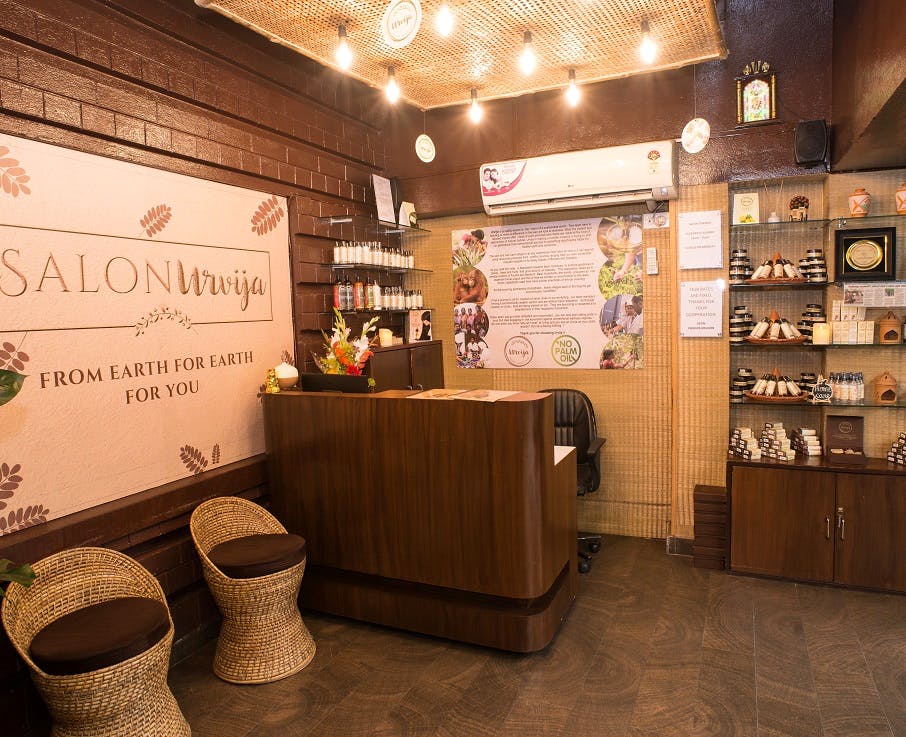 Kashmir Berries To Wine Facials: This Salt Lake Salon Uses Natural Products For Their Treatments
Shortcut
Salon Urvija, located in BD-85, Sector II, Salt Lake City, is one of the few which provides all-natural, chemical-free hair and skin treatments to enhance your skin and hair.
What Makes It Awesome
What links a forest in Borneo to a buzzing town in Hooghly district? What connects the flora and fauna in a tropical Indonesian island to empowered women in suburban Bengal? The answer lies in the bar of Urvija Lemon and Mint cleanser, or the Sandalwood Cream containers. When you buy and use an Urvija product, you take a stand against cruelty, and on the other and also empower the traditionally underprivileged.
The indiscriminate use of palm oil in soap and other wellness products has taken a terrible toll on forests of palm trees in several parts of the world, and specifically the Borneo woods, where forests have been cut down ruthlessly to further selfish interests. Not only have plants suffered from this rampant deforestation, but the Orangutans for whom these woods are a natural habitat, have been rendered homeless by the thousands. Urvija rejects ingredients which hurt nature in any form - palm oil in particular. They do not use any chemical preservatives (parabens) or artificial foaming and firming agents which can cause significant harm to the body,.
They believe in the ancient shloka `Vasudhaiva Kutumbakam' (the entire world is our family) and the interdependence of all life. They grow ingredients such as marigold, extracts of lime, aloe vera and turmeric in their in-house garden. Treatments include Face Clean-Up featuring pure herbal extracts, minerals and essential oils garnered from a variety of sources. Neem leaf and witch hazel extracts are handpicked while willow bark extract and saffron and lavender oils are procured from the beautiful valley of Kashmir. The clean-up is ideal for young adults with acne prone/sensitive skin.
For the summer heat, try their Lavender & Himalayan Berries Facial, most suited for normal to oily skin. It marries pure lavender essential oil from the Kashmir valley with an assortment of berries. The treatment is calming and relaxing and naturally remove your tan. The Olive and Green Tea Facial uses sustainably cultivated cold pressed extra virgin olive oil infused with the extract of olive leaves from orchards in Kashmir and green tea essential oil combine in this nourishing facial to enhance the texture of your skin, and remove tan and hyper-pigmentation. It's good for dry, wrinkle-prone skin.
The Vino-Therapy features red wine, grape-seed extract and oil, and black grape skin procured from reputable vineyards across India, and is steeped in anti-oxidants that will fortify your skin against a range of conditions. The Hibiscus Hair Care therapy features a head massage oil that uses a traditional Ayurvedic recipe comprising potent herbs extracted into hibiscus oil. They have lots more - check out their FB page.
Pro-Tip
Look out for seasonal offers on treatments - for instance, for Poila Baisakh, they have a Hibiscus Therapy package absolutely free with a Pomegranate Oil Body Massage! offer and a Global Hair Colour, a haircut and a pedicure free till 25th April.
Comments