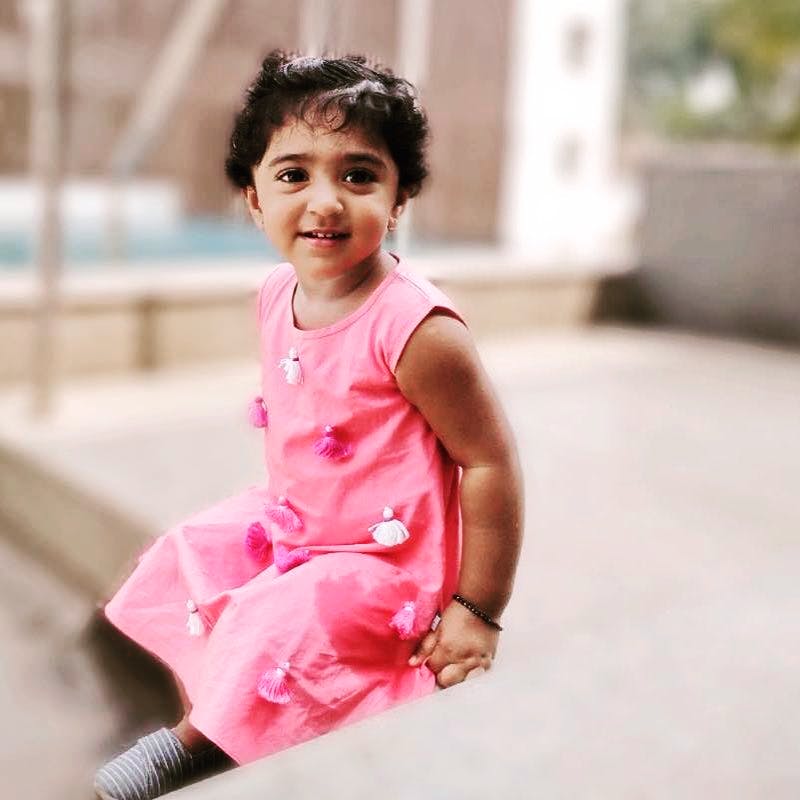 Dress Your Bubs In Cute & Fashionable Clothing From These 5 Five Kolkata Labels
The indie kidswear retail scene in Kolkata is heating up, and the new entrants are making it easy for the little ones to echo the fashion aesthetics of mommy and daddy. If your hunt for trendy, unique, organic and affordable kids' clothing has led you nowhere, then it's time you ditch the malls, dump the anything-goes-with-kids attitude and scope these five Kolkata kidswear labels for some seriously cool pint-sized pizzazz.
Whitewater Kids
Buttery soft organic cotton, non-toxic colours, adjustable fit that gives the outfit more mileage, delightful designs that are hand-printed and based on an original poem - meant to be read aloud and lived. Whitewater wants to transform the way you and (through you) your children learn and give back to society. Colours of manjistha (Indian madder), anar (pomegranate), and haldi (turmeric) render their palette. These herbal dyes are known to have great health benefits, especially for your tiny tot's gentle skin. What's even more awesome is that it is a completely women-led enterprise working alongside traditional women embroiderers and hand-block printing artisans of India. Buy from them and you will be pleasantly surprised to receive your purchase in a specially designed interactive & playful packaging made from recycled materials.

Age Group: 0-12 months.
Price Range: INR 500 - INR 2,500.
Champ's Closet
Finding the right kind of ethnic wear for kids is always a tough job. Either the fit is unflattering or the look too flashy. Enter to the rescue: Champs Closet. Known for putting thoughtful little details in all their products, their clothing line specialises in ethnic wear. Think formal shirts, kurta churidar, dhoti kurta, kurta shirts, prince coats, patialas, lehenga-cholis and sleep wear. Champ's Closet seems to be filling the wide gap between the pricey, fashion-forward labels and the affordable-but-mass-brands. Their mumma and daughter matching PJ sets are making us go awww.

Age Group: 0-8 years.
Price Range: INR 500 - INR 3,000.
Nee & Oink
Nee and Oink was conceptualised to combine modern fashion sensibilities and an element of whimsy, to create a line of children's wear that would appeal to both you and your wee ones.

What the label really does is break stereotypes by addressing the lack of designs in the market for little people. Why dress girls only like Disney princesses in pink and boys in boring greys and blues when you can choose from Nee & Oink's wide spectrum of colours, designs and creativity. Imagine your little man dressed in the label's colourful Jodhpuri pants and crisp white shirt with their signature print pocket square. Dapper, ain't it?
Age Group: 0-10 years.
Price Range: INR 2,000 - INR 6,000 and above.
Little Luxe
Looking for that perfect outfit for your toddler to help you get through the wedding season with the least amount of fuss and most amount of comfort? Your search ends at Little Luxe. Get your little people's fashion A game on with their fringe or peplum tops paired with dhoti pants or bright floral kurtas with silk waistcoats and pocket square. Their designs reflect the fun and frivolity of being a child while maintaining the comfort factor given the active nature of the little ones. Have a design in mind but can't seem to find it anywhere? Well, place your trust in Little Luxe's sartorial abilities and watch them turn your child's dream wardrobe into a reality.

Age Group: 0-10 years.
Price Range: INR 1,000 - INR 5,000 and above.
Mi Dulce An'ya
Vintage, dreamy, luxurious, artisanal, chic and organic all the way - that's Mi Dulce An'ya for you. Easy-to-wear pieces with beautiful handcrafted detailing, that go the distance from playground to playdates. Mamas, if you have got really tiny humans at home then don't miss their range of baby essentials - from handmade infant espadrilles, adjustable mittens, caps with cute monkey ears to teeny tiny dresses and t-shirts. The label's range of contemporary separates for older children is what you should be making a beeline for.

Age Group: 0-8 years.
Price Range: INR 500 - INR 4,000+.

Comments