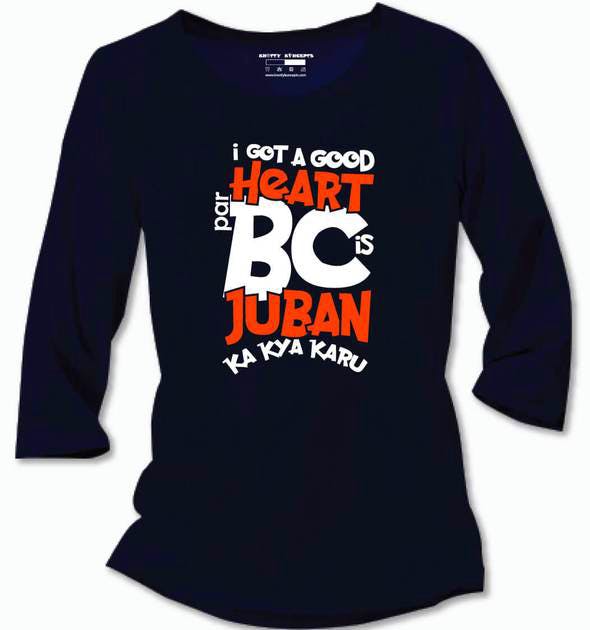 You Have To Check Out This Brand's Tees With Quirky Quotes Printed On Them
Shortcut
Now, wear your emotions all the time with this brand's crazy and creative collection of tees sure to catch anyone's attention.

What Makes It Awesome
Now don't just express, wear your opinions on your sleeve with Knotty Koncepts range of tees that have some really quirky quotes printed on them for all your moods. The brand's 'koncept' is simple: a 'tee' is an expression that you identify with and their collection does just that.
Sick of unwanted advice? Ask them to shut up with their tee that politely asks them to keep their 'gyaan' to themselves. Gift that navy blue tee to your BFF who can't stop abusing. Ask that irritating relative or friend to go to hell with their tee that says, "Aap bhaad mein khud jaoge ya drop karke aaye (Will you go to hell yourself or should I drop you there?)" There are a variety of options like these you can choose from.
The brand does men's, women's and kids' t-shirts. You'll also find tees on travel, freedom, girl power, gaming, sports, alcohol, adventure, bikes, cars, food and tees with inspirational or abstract quotes printed on them. These guys also do Navratri tees! Knotty Koncepts' tees celebrate the kickass attitude of today's youth. Their collection is sure worth a dekko!
You can buy their products online through their website or on Amazon. Prices start at INR 499.
What Could Be Better
They currently sell only t-shirts. We hope they introduce more products soon.
Ask Devyani a question