The information in this post might be outdated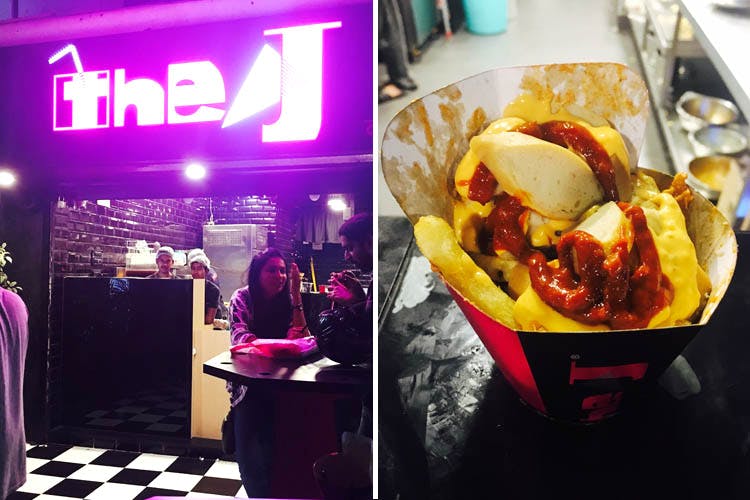 Pizza, Burrito Or Sausage: There's A New Fries Bar In Kolkata That Serves 30 Kinds Of Fries
Shortcut
Tandoori Chicken Fries to Parle G milkshakes, Mumbai-based cafe chain, The J has opened its first joint in the city and they're serving 30 kinds of fries.
When we heard that popular Mumbai-based cafe chain The J was coming to town, we couldn't wait to go over and stuff our faces with their many kinds of loaded fries. This little hole-in-the-wall cafe started in Mumbai and is all about fries and milkshakes. You'll be spoilt for choice here — the menu features around 30 kinds of deep-fried goodness.
You can either go with the sauces mixed with the fries and have them serve you the pizza fries, magic fries or tandoori chilli fries or you can have the sauces just on top. All you non-veg peeps, the Angry Birds fries is the one for you — these are served with nuggets. Also try the J in the Jungle with shredded chicken.
Or, if you are into DIY, then all you've got to do is pick you base — regular fries, masala fries or green banana fries. Then choose toppings that range from sausages, cheese poppers, crushed nachos to beans, batter-fried fish and chicken popcorn. Wait, there's more! After all, this comes with a drizzle of sauce — they have pizza sauce, chilli flake ketchup, jalapeno chilli, chipotle, Schezwan.
They also serve amazing milkshakes like Nutella, Oreo, Belgian chocolate cakeshake, the butterscotch caramel milkshake and the red velvet cakeshake.
Comments