The information in this post might be outdated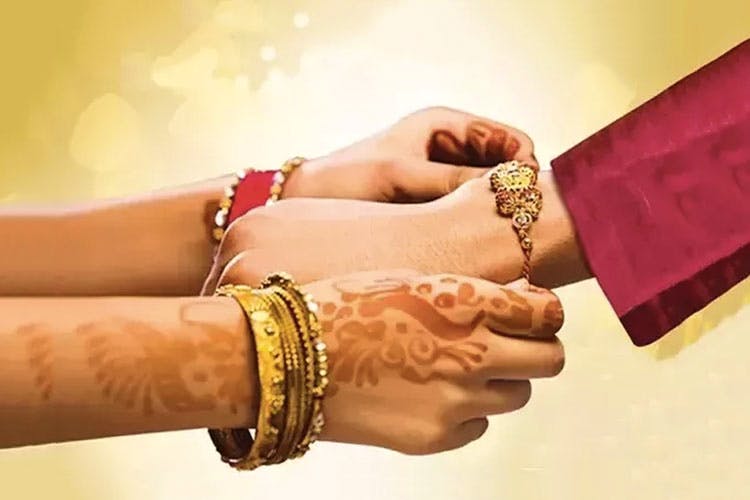 From Pamper Hampers to Fun Merch: Where You Can Get A Rakhi Gift For Your Brother
Raksha Bandhan is all about love, looking out for each other and the gifts, of course! This year, along with that rakhi, how about gifting your bro something unique that reminds him of you every time he uses it? Here's our cool gifting guide for your sweet little (or not so little) bro.
Tees With Swag
If your bro has a crazy sense of humour then Kolkata label Machh Bhat's T-shirts and hoodies will be a good fit for him. Sample these tees printed with quotes like Sheeth Just Got Real or Tomar Khola Hawa (this one is with a cartoon figure of Rabindranath Tagore looking down on a bicycle with a punctured tire!) or legendary Bengali 'daak naams' (nicknames) to the 'bhalobasha' (love) for 'pash balish' (cylindrical side pillow). Prices start at INR 499 onwards.
Pamper Hampers
Organic, handmade, bath & body Rakhi special gift hampers for men? Say no more! Kolkata-based Avira promises to pamper your sibling with their special range of men's grooming products. The hampers come in different combinations containing their hottest selling products such as charcoal detox face mask or a double layer activated charcoal soap or foot soak etc. Prices for these start at INR 500.
Box Full of Flavours
With a hashtag that says #HaveAGourmetRakhi - Flavour Box, a gourmet food service will bring the best of the world's flavours to your plate and palate this festive season. If you have a foodie for a brother then their Rakhi special menu in a box is just the gift you are looking for. Give your bro a treat to remember with the ready-to-eat dishes like Thai biryani, Lebanese dip shooters with lavash, crystal dumplings or a Mediterranean platter comprising six different types of dips and pita basket. You can also indulge his sweet tooth with the Hazel Nutjob (Belgian chocolate fudge slab) or the Goody Two Shoes (salted caramel and chocolate tarts). Prices start at INR 400 onwards.
Funky Merch
Gifting superhero merch will never go out of style. Hop over to the fun geek store Happily Unmarried (inside Forum Mall) where you can pick up beer glasses or mugs with witty quotes on it or a quirky keychain to adorn your brother's bike/car keys. Also check out their fun collectibles, party games, whacky tees, funky room decor and accessories to add to your brother's stash. Prices of these start at INR 500.
Comments