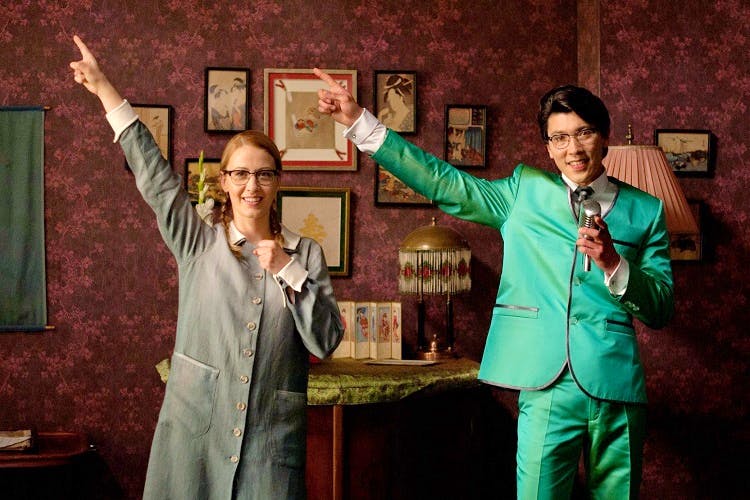 Poetry Slams, Rakhi Shopping, Theatre and Stand-Up Comedy: Everything You Need To Do In Kolkata This Week
Ten-Second Takeaway
Poetry slams, European cinema, rakhi shopping… here's our guide to things you won't want to miss this week.
Papercup and Airplane Poetry Movement Present Poetry Slam
Get ready for an enriching and eye-opening evening as fearless poets speaking their minds at this poetry slam. Open to all to perform, and/or be part of the audience. You can snack on some delicious treats as well.
What: Poetry performance by young people in Kolkata
When: 10 July
Where: The Doodle Room
Time: 6-8:30pm
Entry Fee: INR 50
Festive Flavours 2017
With Rakhi just around the corner, get ready for the festive season by stocking up on some offbeat ones for your siblings. Intricate flower designs to cartoon-themed ones or coke bottle-themed rakhis for the brother who is a caffeine fan – find it all here.
What: Mala Neotia's Rakhi and Lifestyle Exhibition
When: 11 July – 13 July
Where: Lee Banquets
Time: 11 am onwards
Entry Fee: Free
Death of a Salesman
Watch the talented group, The Nautanki Company, put up a stellar and thought-provoking performance on Wednesday evening.
What: A theatrical performance by The Nautanki Company
When: 12 July
Where: Gyan Manch
Time: 6-9pm
Entry Fee: INR 150
The Joke's On Monkey
A night of laughter, lame jokes and lots of drinks – it can't go wrong! Sit back as the city's finest and funniest tickle your funny bone.
What: A stand-up comedy performance with Kalkutta Komedians
When: 13 July
Where: Monkey Bar
Time: 9-10pm
Entry Fee: Free
Awareness Programme on Sexual Harassment At The Workplace
An educational and informative session on sexual harassment at the workplace, creating awareness and familiarising people with the laws.
When: 14 July
Where: Hotel Hindusthan International
Time: 10 am
Entry Fee: INR 4956
Calling All European Cinema Buffs
Love French films? There are two places that will be screening some great ones this week. Head to Alliance Francais du Bengal where they are hosting a two-day French Film Festival to mark the French National Day. And the Satyajit Ray Film & Television Institute (SRFTI) will host the Kolkata chapter of the 22nd European Union Film Festival. They will screen 22 award-winning European films from as many countries. Over nine days.
When: Alliance Francais du Bengal – 15 and 16 July. The SRFTI fest starts on 14 July.
Where: Nandan, 1/1 Lala Lajpat Rai Sarani, AJC Bose Road
Entry: Free. Seats available on first come first serve basis.
Head Turners Sports Salon Launch
The launch of Kolkata's first sports salon will see a host of talks on sports fashion, trending styles and skin and nail care tips. The new Head Turners comes complete with fun decor with a sports theme.
When: July 12, 3-5 pm
Where: P-19, Gariahat Road
Entry: Free
#LBBTip
Don't forget to carry an umbrella or raincoat wherever you go! Rain is predicted every day this week.