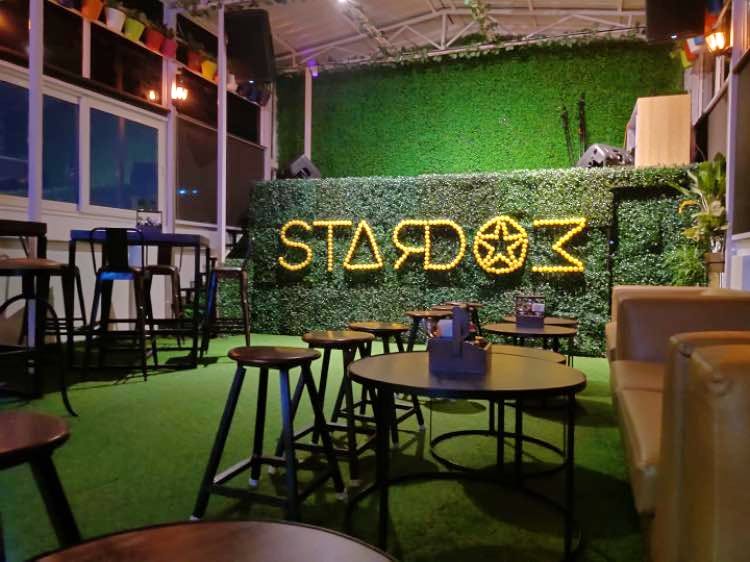 This Vegetarian Place Near Bhawanipore College Is A Must-Visit For All Food Lovers
Shortcut
Calling all vegetarians! There's a new haunt in town and it serves Italian, Chinese, Thai and Continental food on offer. Go check it out.

What Makes It Awesome
Located right beside Bhawanipore College in Elgin, Stardom is the newest spot on the block for all you vegetarians. It's a two-storey casual dining place divided into two sections. The first section is on the 4th floor where there's limited seating for just about 15-20 people. The other is a rooftop glasshouse enclosure that has an over 5-foot high stage for artistes to perform.
The décor of the entire place is minimal, elegant and soothing. With artificial glass flooring, potted plants and lantern-like lights on the side walls, the rooftop area exudes garden vibes and is sure to make you feel relaxed. They also have lots of board games for you (think Ludo, Pictionary, Taboo, Scrabbles, Sequence and lots more!).
The menu is a well-curated vegetarian one with Italian, Chinese, Thai and Continental food on offer. Order Crispy Chilli Broccoli – deep-fried broccoli tossed in Chinese sauces. You'll love the dish even if you hate the vegetable, it's so good! The Cheese Corn Balls and American Corn Salt and Pepper are other must-try dishes. For all you pasta, pizza and burger lovers, there's lots on the menu for you to hog. Opt for the Classic Burger - potato and corn patty topped with tomato, cucumber, onion and lettuce and served with dips - or Spaghetti Aglio Olio, which is basically spaghetti pasta tossed in olive oil, burnt garlic and pepper. All you health freaks can try the Caesar, Greek or Watermelon Feta Cheese salads.
Looking to try some mocktails? Do not miss out on the Snake Bite – made with grape and lime juice, chillies, sprite and tabasco sauce, this one packs a punch with its spicy yet sweet and tangy flavour. Out of School, which is basically guava juice with a spicy twist, is great too.
What Could Be Better
We tried the Vegetable Sizzler in Soya Chilly Sauce and were not really impressed by it. The noodles were quite bland and hardly had any vegetables. The veggies tossed in the sauce were decent but the French Fries served along with it weren't that great.
Also, they really need to work on their service. It was quite slow and messed up.
Pro-Tip
Don't prefer hookah? Then we suggest you to not opt for the rooftop section. Take a seat in the section downstairs on the 4th floor. Also, they turn a section of the rooftop area into a dance floor in the evening. So, get grooving you guys!

Comments