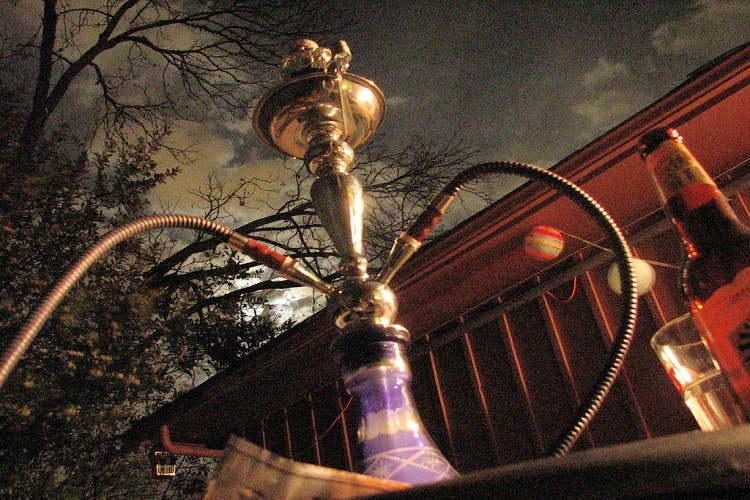 Totally Hooked: The Five Best Hookah Bars In Kolkata
Ten-Second Takeaway
Get hooked as we uncover the best of the best hookah bars in Kolkata.
Tyre Patty
This vegetarian-only hookah café is always packed with young people. Their 'tyre' theme gives the café a fun and attractive vibe. Along with the wide variety of hookah available, they serve café-style food. Dig in to the Italian sizzler and Mexican Bullet which are favourites.
What We Loved: They give you the option of using a 'cold pipe' which makes inhaling the hookah easier
Where: Lee Road
Pocket Pinch for 2: INR 800+
The Firefly
The four Firefly outlets in the city have made their way into the list of favourite hookah bars really fast for being light on the pocket and fun. Along with hookah, the pool table is the main attraction here where they charge by the game. Keep a lookout for their karaoke and live music nights which are always a blast.
What We Loved: It's open 24×7 so you get all-day happiness
Where: Multiple outlets
Pocket Pinch for 2: INR 800+
Beer Republic
Say hello to one of the city's most happening breweries which not just serves up great hookah but also their own self-brewed beers (you have to try their wheat beer!). The hookah is strong and lasts long. The paan flavoured is popular among regulars – you might want to give a shot.
What We Loved: You can order your hookah light, mild or strong depending on what you prefer
Where: Kankurganchi
Pocket Pinch for 2: INR 1500+
The Great Booze Story
Super affordable during happy hours, the hookah here will keep you very happy indeed. The Rose Shisha will keep you coming back for more. The bartenders shake up some intense cocktails if you are in the mood for some drinks. Keep an eye out for Karaoke Nights, Jam Sessions and Ladies Nights.
What We Loved: The menu is newspaper themed – so innovative!
Where: Sarat Bose Road
Pocket Pinch for 2: INR 800+
The Drunken Monkey
Live music, great crowd and relaxed vibe has made Drunken Monkey one of the favourite hookah bars in the city. Each table has light regulators so you can adjust how bright or dark you want your table to be lit. Throw in some of their classic fries and cheese-laden thin crust pizzas to enjoy with your hookah.
What We Loved: The monkey detailing and décor you'll find in the most unlikely of spots – hanging from the lights, a cartoon monkey on the chalkboard…
Where: Kaikhali
Pocket Pinch for 2: INR 1500+