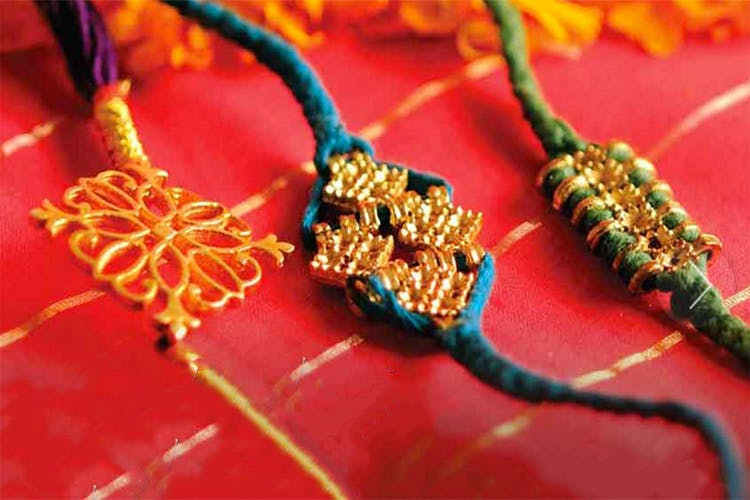 Add A Dose Of Fun To Raksha Bandhan With These Unique Handmade Rakhis
Rakhis off regular shop racks are kinda okay, but not when our siblings are fabulously awesome. If you're looking for something fun and interesting to suit their personality, then you've got to check out these unique rakhis from these stores. Who knows, you may even find something that could be a sweet reminder of a fond memory that you shared with you sibling.
Gatha
Gatha's rakhis are making us grin and taking us back to our naughty childhood days. Remember the lion you drew as a kid unaware on your sister's school notebook or the monster your brother drew to scare you? That and more such childhood memories take shape on Gatha. Check out their origami rakhis or the felt ones that we absolutely fell in love with.
Sparsh
Why just stop at sharing love only with your beloved siblings? This Rakhsha Bandhan spread love to some specially-abled children who need your help. Visit Sparsh to check out some of the beautiful rakhis that these special children have made. Kundan to pachi flower and loomba rakhis, we're sure you'll want to grab as many of these as you can!
Jaypore
A go-to store to pick elegant and chic fashion, Jaypore is also stocking up on unique rakhis for the season. Simple thread rakhis to ones with cute buttons, small silver pendants and bronze beads, you will be spoiled for choice. What caught our attention were their handwoven colourful cotton crochet ones. Slightly steep in price, but they're totally worth our awesome siblings.
Diaries Of Nomad
Satin rosettes to loomba rakhis sporting little beads and little conch shells - the collection at Diaries of Nomad is funky but subtle. Without any of the typical garish stone or zari embellishments, these come with signature tassels and in variety of colours.
Gram Art Project
This year make a greener choice for rakhi. The Gram Project are creating unique eco-friendly rakhis made by the farmers of Madhya Pradesh from handwoven and naturally dyed cotton. These pretty rakhis are unique in their use of seeds instead of beads for decoration. Order at gramartproject@gmail.com.
Papercup
Add a dose of fun to tradition with quirky gifts and rakhis from Papercup. They have come up with a range of handmade rakhis and cool hampers that fits well within our budget. Made with paper quilling, beads, ribbons and other accessories, their rakhis are available from INR 50 upwards.

Comments