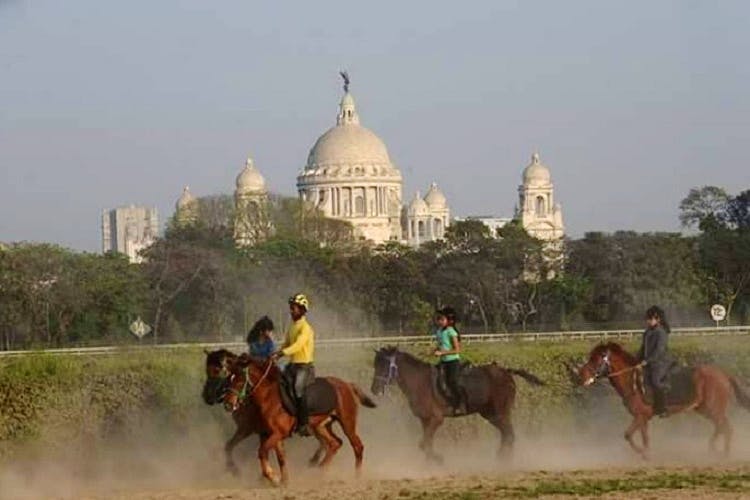 Want To Learn Horseback Riding? These 3 Clubs Will Sort You Out
Love horses and wish you could actually ride them? These Kolkata-based clubs offer horseback riding classes. Join them and not only will you pick up the basics of riding, stirrup adjustment, and handling a horse, you will also be fitter.
Calcutta Polo Club
Learn horseback riding and polo at Calcutta Polo Club from Coach Azgar Khan (ex- 61st Cavalry Regiment), who has over twenty years of experience teaching at different clubs around the world. Classes are offered every day from 4 am to 8 am and 3 pm to 7 pm, except Mondays. A one-off riding session ranges from INR 399-499, whereas certificate courses start at INR 7,999 for 24 classes spread across a period of three months. Customised packages are also available for people with specific requirements. Make sure to check about additional riding requirements, such as shoes, helmets and breeches.
The club also offers one-hour archery classes on Fridays and Sundays from 10am to 7pm. Starting at INR 1,599, Level One includes 8 classes spread over two months.
Tollygunge Club
Tollygunge Club offers riding classes from 6 am to 7:30 am and 4 pm to 6:30 pm, on all days, except Tuesdays. These riding classes are particularly appealing given the location. You will need to pay a security deposit fee of INR 10,000, which is refundable, as well as a membership fee of INR 2,200. Classes cost INR 2400, plus GST, for eight classes in a month.
Royal Calcutta Turf Club
Calcutta Racecourse offers classes in the evenings only. They are around an hour – including coming and going from the stables to the riding ring. You will need to pay a refundable security deposit fee of INR 4,500 along with a one-time membership fee of INR 3,000. Classes are priced at INR 3,500 per month, which entitles you to ride three times a week.
Comments