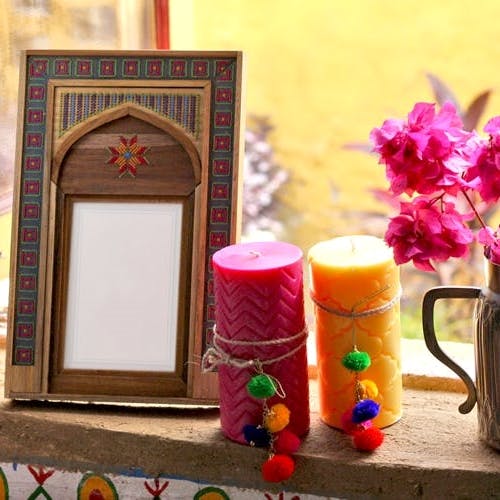 No More Bedsheets: Here Are 6 Out-Of-The-Box Wedding Gift Ideas
Furniture From FabIndia
FabIndia furniture is tasteful, elegant and reasonably priced. Help the newlyweds set up their new home by adding a splash of traditional elegance with functionality. We love their mirrors and moorahs – both make great additions to any room (living room or bedroom) because of their versatility. Check out our collection of furniture under INR 5,000 here. The online store will deliver home but you can also try the Hindustan Park and Allenby Road outlets – they're really well stocked with furniture.
Antiques From Park Street
Victor Brothers and Russel Exchange, just off Park Street, are home to delicate collectibles and valuable antiques. Pick up anything from vintage car models (for the groom who is obsessed with cars) to brownie cameras (for the photography-enthusiast bride) or old chess boards for the couple to squabble while playing chess. The pieces are auctioned on Saturdays. Check out more items here.
Hidden Treasures At Dakhinapan
Dakhinapan is a storehouse of hidden gems. Really want a standout gift? Nothing screams amazing like an old gramophone and a couple of vinyls. Outside the Madhya Pradesh showroom you'll find pieces that you can pick up after they are repaired and restored. Dakhinapan is also teeming with coffee tables and cabinets that will stand out in any room. Check out all our finds here.
Café-Style Crockery At Rajni Klal
Rajnik Lal is a treasure trove of quality crockery that looks straight out of a café. You can pick up wedding presents to last you the entire season from here – their variety is incredible and they're super affordable. We love the plate and bowl sets – available in bright colours, they're young and fun. You can also mix and match coasters, trays, casseroles, bottles and jars to come up with individualised packages for each couple. Take a look at their whole collection here.
For The Newlyweds With A New Home
Know a couple who are getting married and setting up a new home at the same time? Here's a list of furniture stores you can stop by to pick up practical yet memorable presents for them. We love the bohemian kitsch-style vibe you'll find at Basil, intricately carved woodwork from Gopal Nagar Lane or Dutch armchairs from Scarlet Splendour to lounge on.
Make A Living Free Hamper
Living Free is an eco-friendly store where you can score everything from designer clothing to stationery. Make a hamper for the newlyweds by mixing and matching from their range of wellness and beauty products includes handmade soaps and bottles, a selection of range of their organic, gourmet handmade cheeses and ceramics for the home. Check out everything we love about Living Free here. (Calling all brides and their tribes! From clothes to gifting, get all your wedding inspiration here. #HitchedWithLBB).
Comments