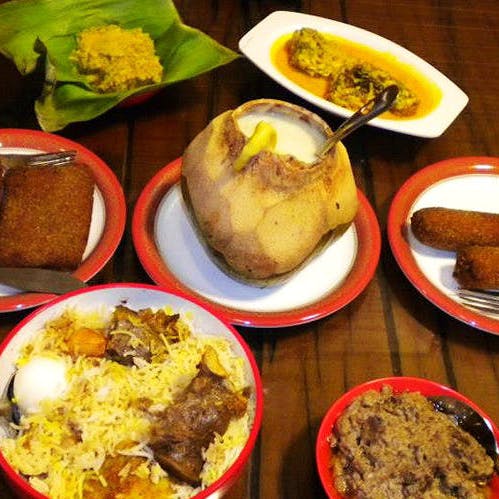 Carnivores, Go To These 10 Eateries In Mumbai For Your Non-Veg Feast
If you often find yourself thinking about food, and specifically craving something meaty and are averse to the thought of eating the greens, then you'd surely want to check out this list for places you can savour delicious non-vegetarian food.
Shizusan, Lower Parel
Currently serving some of the best fuss-free South Asian food in Mumbai, Shizusan is a delight for non-vegetarians with their offerings like sashimi, nigiri and maki sushi, baos, dim sums, rice bowls, satays, Taiwanese miso milk bowls, Korean fried chicken wings, stir fried vegetables, and a whole lot more.
Check them out here.
Ticca Tikka, Andheri West
Bunny Chow, the famous fast food of the Indian community in South Africa is making tongues wag in Mumbai too. Everyone is talking about it, and you should definitely head to Ticca Tikka to give it a try. The chicken tikka bunny chow is delightful
Check them out here.
Pradeep Gomantak, Fort
Pradeep Gomantak Bhojanalaya at Fort is one of the only Malvani cuisine restaurants in the area that serves some lip-smacking seafood. A must-try if you're working in and around Fort, and if you love seafood a lot, this might be worth a trip.
Check them out here.
Goila Butter Chicken, Andheri West
Really good butter chicken aka the staple dish of the Punjabis and the pride of Delhi is hard to come by in Mumbai. This was until Delhi boy Saransh Goila unleashed his deliciousness upon us. Goila Butter Chicken has made a special place in the hearts of Mumbaikars and we suggest you hit them up soon.
Check them out here.
Brittania & Co.
If you're a fan of Irani cuisine, there's few places more famous than Brittania & Co. Located in quaint Ballard Estate, this establishment serves up fragrant portions of their famous berry pulao - made with berries flown in from Iran, salli boti and mutton dhansak. Come by early on weekdays so you're sure to catch a table as its popular with officegoers in the area as well as tourists.
Bombay Brasserie, Worli
Bombay Brasserie is an ideal dine-out place. If you're a biryani-lover, then you are going to love their Bohri Muslim specialty, Bombay Chicken Biryani. This yummy masaledaar chicken biryani with aloo slow-cooked with homemade garam masala, is not like your regular biryani. This delicious dish is sure going to satisfy your taste buds.
Check them out here.
Joeys Pizza, Andheri West
Joey's Pizza is a name familiar to all Mumbaikars now thanks to their delicious pizzas. If you've been a loyal fan, you surely would've tried the Tornado pizza, a spicy pizzas combined with chicken keema and tikka. A must try for non-veg lovers. You could also try the Joey's special pizza which also very popular.
Check them out here.
Mahlzeit, Bandra West
Mahlzeit, is named after a Germanic greeting to wish one a happy meal. With different wurst sausages up for grabs, there's something for everyone – even vegetarians. They have, on their menu, a bratwurst hot dog with delish caramelised onions and pickles, and a coilwurst made using pork sausage.
Check them out here.
Calcutta Club, Andheri West
You must go here for the aloo posto, pabda fish, mutton jhol, and the variety of fish, meat and the mind-blowing kobiraji cutlets. In case you want to gorge on the Bengali staple, go for the luchi and cholar dal/ aloo dum combination.
Check them out here.
Poush, Malad West
Kashmiri cuisine in Mumbai? Sign us up! This eatery in Malad serves up generous portions of classic Kashmiri dishes like Daniwal Korma, a rich mutton in yogurt gravy with corriander leaves; Mutton Goshtaba, a flavourful gravy spiced with saffron and Rowangan Kukur, a pan-fried chicken in a rich tomato gravy. With fragrant rice and fluffy naans to go with, it makes for a super meal!
Comments