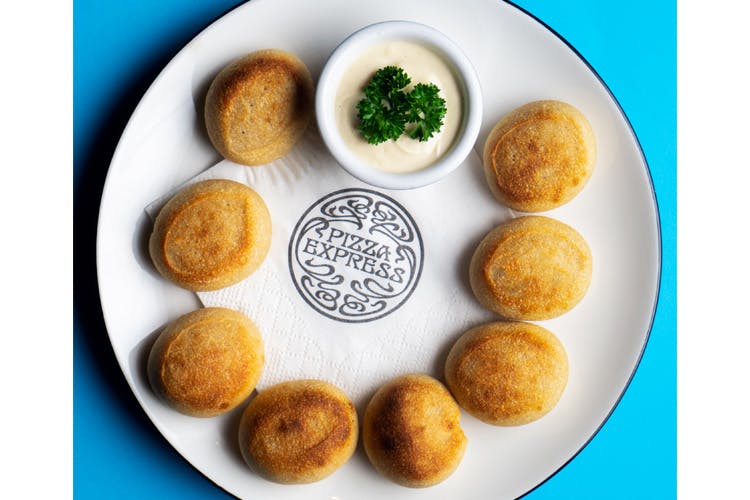 5 Delicious Reasons To Go Green This Season, Thanks To PizzaExpress!
A healthy lifestyle is much like that old college friend whom you really want to meet but just can't get yourself to make the effort. I mean, don't you just love having pizza in bed while you're binge watching a new series after a really long day at work, which instantly uplifts your mood? Well, guess what? Healthy food is not just about strict limitations, staying unrealistically thin, or depriving yourself of the foods you love. You could have your pizza and pasta and still have a healthy lifestyle, thanks to PizzaExpress. Our top 5 healthier options from their newly launched Good Mood Food menu are listed below (these would definitely add some feel good factor to your gloomy day:)

1. Avocado Dip with Rosemary Bread
Not only do they make their guacamole in house with yogurt, which goes really well with whole-wheat rosemary bread but it also looks heavenly. Just like any perfect meal, it is one part healthy and other parts delicious. Maintaining a healthy lifestyle doesn't sound boring now, does it?
2. Avocado Quinoa
Served with your choice of dressing - house dressing, lemon dressing or rosemary emilgrana dressing, this scrumptious salad contains avocado and quinoa. It is not only good for a healthy heart but is also a rich source of fiber, protein and iron. Could it be any more awesome?

3. Spinach Pasta with lemon chili sauce
Now, I can finally stop counting calories in my head every time I check the menu and enjoy this pasta variant which consists of lemon, chilly, asparagus, cream and the obviously spinach. This mouth-watering dish is high in fiber, vitamin B and antioxidants tipping the scales towards healthy food.

4. Chargrilled & Paneer Pizza
Pizza is one of man's most delectable gifts to this world. And now it is healthy too! The chargrilled and paneer pizza has chargrilled veggies and arrabiata sauce to spice things up, plus it is a great source of fiber, protein, minerals and calcium.

5. Raspberry Sorbet
Desserts are like that perfect climax to the TV series that kept getting better with every season (We're not talking about Game of Thrones - that one still hurts!) Try ending the perfect meal with their refreshing raspberry sorbet which is also a good source of vitamin C and fiber.

So We Are Saying...
Text your friends and make a plan to visit any one of their locations in Colaba, Powai, Andheri, BKC or Thane in Mumbai and Vasant Kunj, Gurgaon or Noida in Delhi to have an amazing time!
Comments