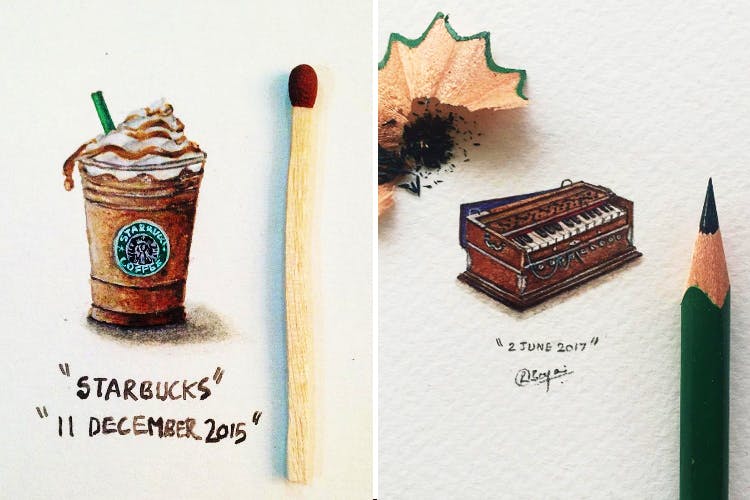 Small Wonder: Get Personalised Miniature Paintings The Size Of A Nib From This Artist
Shortcut
Young Delhi artist, Ritesh Baghai makes miniature paintings as tiny as a two-rupee coin, a matchbox or even just a pencil tip.
Good Things, Small Packages
We discovered the handle 'An Indian Miniaturist' on Instagram. He's made miniature paintings of book covers for Penguin, and they were as small as a tiny pencil shaving. This artist whips up beautiful caricatures of things around him, maybe motifs from his travels, everyday objects, and more.
His timeline shows mini donuts the size of a thumbnail, a delicious ode to pepperoni pizza, and more books with intricate cover details to boast of.
What Can You Do?
Apart from going and liking his page here for a pop of funky on your daily scroll, you can buy framed versions of his miniature paintings. These will cost you between INR 2,000-3,000, and he can make personalised paintings as well, if you request.
So, We're Saying...
Gift a book-lover a mini Harry Potter book painting to pin up the board, or get a pizza one for yourself. Get in touch with him by emailing him on riteshbagai160797@gmail.com
Follow him on Instagram here.
Comments