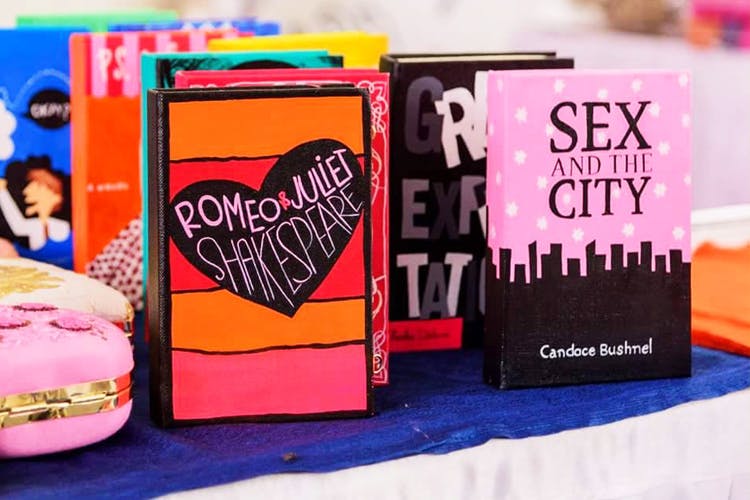 Show Off Your Favourite Reads With These Cool Book-Themed Handbags
Shortcut
Are you(a) a wordsmith (b) in love with a fictional character (c) an official book-sniffer or (d) all of the above? You will fall in love with our find then – a bag that looks like a book, or in more cohesive terms 'a book clutch'.
What Makes It Awesome
Bhairavi Malkani is a designer who owns her own bags label called the Creative Box, and creative it for sure is. One of the cool products she sells is a book clutch, which is her artistic rendition on popular book and movie covers. These clutches are shaped just like a book, and look like a hardcover you are just carrying around. If one didn't know any better, one would definitely think it was something you nicked out of a library.
These are hand-painted (made with acrylic paints, coated with a layer with varnish) and made on boxboard and covered with canvas. The size is usually 7.5X5 inches. Some of the covers she has made, and we have loved, are Amelie, Romeo & Juliet, Breakfast At Tiffany's, Eat Pray Love, Great Expectations, The Fault In Our Stars, Sex And The City, and Harry Potter. Talk about playing to the (right) crowd! These are priced between INR 1,000 and 2,500 each.
You can choose any book you love and ask her a cover of it for you too for INR 2,500. Sometimes, it's not just a cover but you could ask for a favourite quote from a book and ask for that to be splashed in front of the bag. It could not be a better gift for a book-lover.
Pro-Tip
Being forced to leave the confines of your bed, blanket and fictional beau? Carry this book bag as a statement of your protest wherever you go. And if you can manage to fit a pocket paperback inside the book clutch, you will thereby be deemed the master of bookception.
Comments