The information in this post might be outdated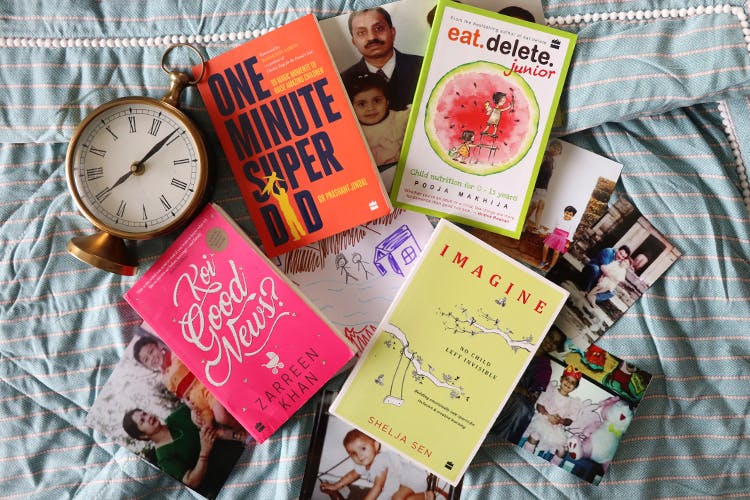 #LBBPicks: Here's Your Fun & Informative Guide To Parenthood
What Is It?
If you know of any married or pregnant couples in your friend circle, you might be quite aware that while the wedding is a big milestone, planning a baby is an even bigger one. Just like storms, no one ever is ever too prepared for parenthood. All the counseling sessions and mother-daughter phone calls seem too less to understand the growing kid. To ease the process of parenting, we have picked 5 interesting and funny reads by HarperCollins to get you through.

Eat Delete Junior
You are what you eat, and the celebrity nutritionist Pooja Makhija tells us how to do so. Her latest book, Eat Delete Junior revolves around the right kind of nutrition your kid deserves. What you can expect is honest, tried & tested advice right from the mother of a toddler and preteen.

Imagine: No Child Left Invisible
We have all, at some point, been a part of the shaming culture where our parents & teachers intentionally or unintentionally told us we weren't good enough. Imagine, written by Shelja Sen, is an emotional read that addresses this toxic culture, helps parents and teachers understand it and offers valuable insights and solutions to become better. The author talks about how to support a child's creative side and throws light on the subject in detail so no parent makes these mistakes.
One-Minute Super Dad
With multiple books present in the market that talk about motherhood & how to be the best mom, fatherhood often gets completely sidetracked. One-Minute Super Dad by Dr. Prashant Jindal is a much-needed book that talks about fatherhood & how a father plays an important role in raising the child. The book includes some brilliant tricks and 7 tips every father must know.

Koi Good News?
It's rightly said that the journey holds more value than the destination. One such journey is of an Indian married couple who have been childless for the longest time, and find themselves pregnant. Koi Good News? written by Zarreen Khan showcases the protagonists' journey through their pregnancy along with other ups & downs the couple goes through. This book also gives a subtle glimpse of how Indian society works.
I Didn't Expect To Be Expecting
This fun yet honest read will definitely calm you down and take your mind off the stress of parenting. Written by Richa S. Mukherjee,
I Didn't Expect To Be Expecting
is a story of a strong, independent & settled woman who discovers she's pregnant. Her pregnancy changes quite a few things in her life, leading to parenthood anxieties. The story is about accidental parenthood and how the protagonist handles it.
We tried fitting the best 5 here, but you can browse through the entire collection at HarperCollins. Follow HarperCollins India on
Facebook,
Twitter
, and
Instagram
and get all the updates on more such wonderful books on parenthood.
Comments