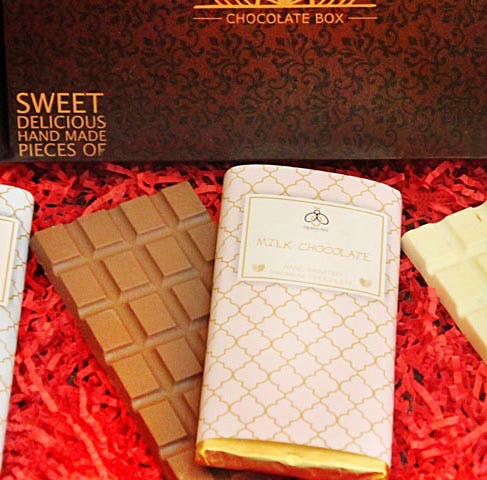 Craving Chocolate? These Chocolate Subscriptions Will Satisfy Your Chocoholic Soul
Everyone loves a perfectly curated box of chocolates! In this list, we share with you our favourite subscriptions that help us enjoy the perfect chocolate box.

Scriberr.in
Scriberr provides curated subscription boxes which includes food, fashion, books, daily essentials etc. Well, they have one for chocolate lovers as well. Called Flicbox, this chocolate subscription box includes a curated list of international chocolates from some of our fave brands like Toblerone, Ferrero Rocher, Lindt etc. You can customise the box as per your needs - a one-time only to a twelve-month subscription is available, and you can choose from a mini, medium, or giant option, as well as regular or diet!

The price for their subscription service for one month starts at INR 650.
CocoaTrait
While CocoTrait is based in Chennai, they deliver their subscription boxes all over India. If you know a true chocolate lover, a box of the finest chocolates via CocoaTrait will make for the perfect gift. Carefully packed in chic tin boxes, each chocolate bar is handpicked and made from the some of the most experienced artisans in India. Fun fact- this is owned by Nitin Chordia who is India's 1st and only certified chocolate taster!

The prices of their monthly subscription boxes start from INR 1,299 and goes up to a whopping INR 11,599.
Flicbox
This one's claimed to be India's first International and gourmet chocolate subscription service. If you're looking for international chocolate brands all in one box, this is the website you need to sign up at. You can choose from a wide variety of brands, and in different sizes too - like mini, medium or giant. Gourmet chocolates, artisan brands, international brands, they're all there for you to enjoy!

They can also be ordered on sites like Scribber.
Queen Bee
That time of the month? Queen Bee has got you covered. They understand that what your soul needs is some comforting chocolaty goodness, and that is why they curate some of the best chocolate boxes for you! They have a three month and a six month subscription service which start at approximately INR 1,300. The box includes three delicious handcrafted chocolate bars including white, milk and dark chocolate.
Well, they even have a 'All Choco PMS Box' worth INR 300 which includes 8 natural and low-calorie chocolate balls. The flavours include choco walnut, choco coconut, choco nuts and choco fruit.
Chocolate Club
Well, they prefer sending you treats the full year! The box would include 9 - 24 pieces of assorted premium chocolates depending on the size of box you choose. Along with the box you'll also receive a monthly newsletter, special offers and products etc.

The price of this subscription box starts at INR 2,745 for a year.
Comments