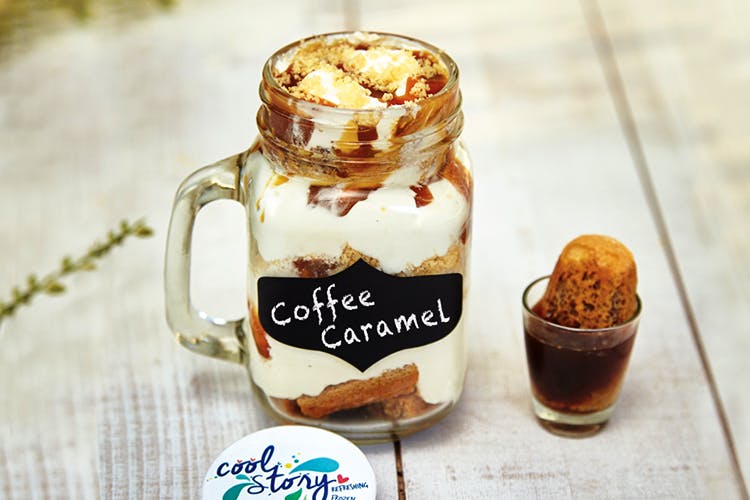 Freakshake Fatigue? Head To Cool Story In Bandra For A Fratte Overload
Shortcut
Tired of your fancy freakshakes? Dreaming of a frappe taken to a whole new level? Then sit back and relax as we have a 'Cool Story' to tell you.
Chow Down
Cool Story is a small beverage shop hidden besides Between Breads, 16th road in Bandra. They have amazing cold beverages, endless conversations, books and games to give you company. Don't forget their friendly service, sweet and quirky setup and good music.
What you simply should not miss here is their 'Fratte Overload'. Make sure you keep your stomach empty before indulging into this divine creation. They have around six varieties and each one is simply drool worthy. We recommend you try their strawberry cheesecake fratte overload. Priced at INR 295, this five-layered drink is filled with a cheesecake biscuit base, whipped cream frosting, strawberry fratte, cheesecake gelato, strawberry fruit puree and rainbow sprinkles. Now you know what to try if you're tired of freakshakes.
If you aren't satisfied yet and want to go for something lighter, then do check out their gelatos, frocktails, teas and their crisps and dips where you can choose from finger food like lavash, baked toast, nachos with dips like peri-peri hummus, French onion and jalapeño dip.
So, We're Saying…
If you're looking for some quiet time to spend your date or catch up with your friend and if your sole objective is to talk and have fun, then this is a cool place to be. Cool story, bro?
Check out Amrith's blog for more cool recommendations here.
#LBBTip
Feel free sit back and read some books, or even just play some Uno with your friends. If you need company, don't be shy to call the owners. They make some good company and also take feedback.
Comments