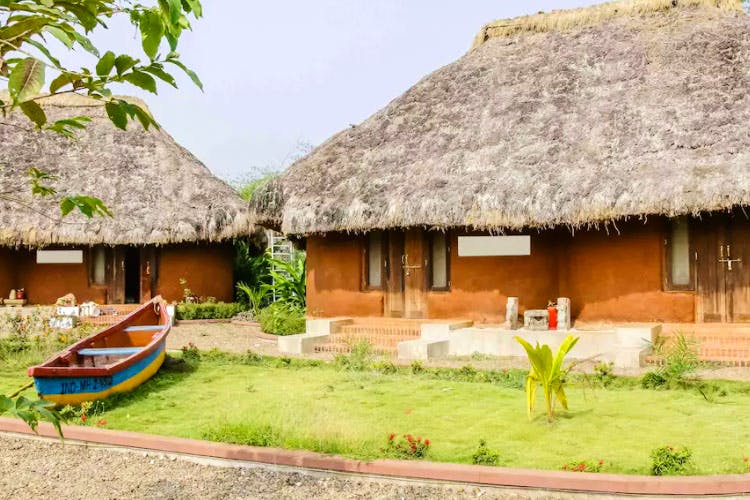 Open-Sky Showers & Vertical Gardens: Here's Why We're Heading To This Earthy Cottage For Our Next Vacation
What Is It?
If a perfect vacation is what's in your mind, this cottage won't disappoint you at all. The Earth Stay is creatively satisfying and how. For all the people who want to stay close to nature and relax by exploring what the Italians famously call 'dolce far niente' or the sweetness of doing nothing, this property is heaven on earth.
The private room in a cottage has two double beds and fits four people. The room is divided by a divider to encourage the co-living culture and community mindset.The attached bath has open to sky showers and a vertical garden that makes you feel close and connected to nature all the time. Imagine looking at the majestic hues in the sky while taking a bath. Uhh, we're already craving for the experience. Aren't you, too?
How Do I Get There?
The stay is located in Karjat and is easily accessible by road. You can take the Mumbai-Bengaluru highway and it would get you there in about an hour and ten minutes. The distance is about 54 kilometres. If you want to catch a train, you can take Mandovi Express from Dadar and get down at Chowk. The stay is about 2.3 kilometres from the station.
What Makes It The Best?
The Earth Stay completely believes in the power of environment and hence all the materials used to build it are from the earth. The rammed earth walls and recycled wood frames not only give the place a rustic and earthy touch but make the place look resplendent. The roofs which are thatched by a team of female artisans from Bhuj are one of the prime features of the stay. And their meals are completely fresh and organic.
Apart from that, there's a recreation center with dedicated areas for printmaking, pottery and an art gallery. They also have an earth café with a country style kitchen and an amphitheatre. How fun does that sound?
So, We're Saying...
The tariff is INR 10,017 for one night including meals and taxes. Caught in this concrete jungle, we don't see why you should miss a chance to stay at this gorgeous and natural retreat. Gift yourself some earthy luxury, book your stay now, we say!
Comments