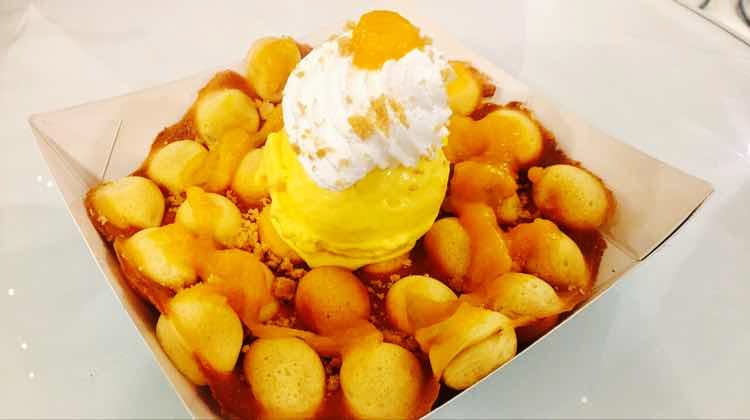 Delivery Available

Wi-Fi Available
Tis The Season: Papacream Is Selling Bubble Waffles Topped With Mango Compote
What Makes It Awesome
Papacream, the ice cream shop famous for nitrogen ice cream, has come out with a new mango special offering. This dish includes bubble waffles topped with a rich scoop of mango ice cream, mango compote and fresh cream. This dessert is a refreshing change from all the chocolatey things we've been so used to eating and the waffles help balance out the sweetness.
What Could Be Better?
More variety would have been good but this one wasn't bad either!
What's My Pro Tip
You can watch them make the ice cream from their open kitchen which increases the fun of eating your dessert. You can also ask them to add candies, peanuts and sprinklers to your ice cream to make it more appealing.
Anything Else?
Go with a bunch of friends as the serving is too huge for one person to finish and gets a little too sweet to handle after a few bites. But for all mango lovers, this ones a must try. Plus the crunchy waffle balances out the sweetness of the mango ice cream and compote well. Enjoy!
Delivery Available

Wi-Fi Available