The information in this post might be outdated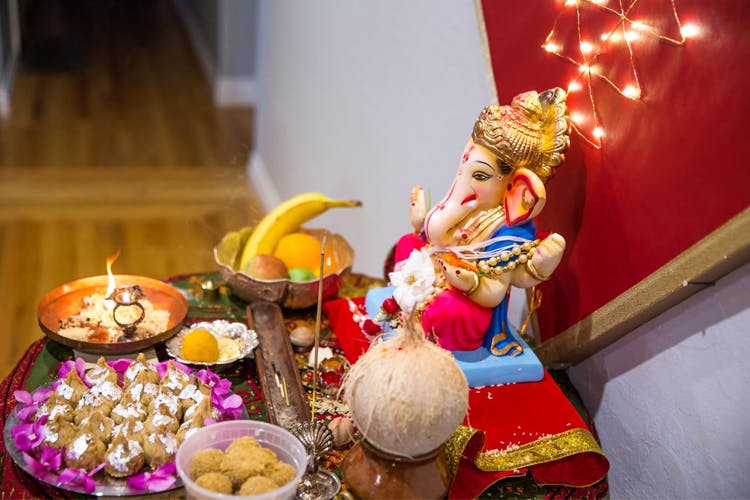 Ganpati Bappa Morya: Recreate 3 Iconic Recipes At Home With Rostaa This Ganesh Chaturthi
Happy Ganesh Chaturthi! As we celebrate this beautiful festival – full of sacred rituals, delicious food and good vibes! We revisit values of love, honesty, prosperity through festivities. From colourful pandals to cheerful music and chants, this festival is a memorable 10-day experience that unites us in hope and belief in new beginnings. So why not add some delicious and healthy food recipes from Rostaa to our celebrations? With unique and healthy food items, including nuts, trail mixes, tropical fruits and more – you will savour these dishes from the very first bite.
Dry Fruit Namkeen
Let's face it. Festivities add some extra calories to our diet. Well, this dry fruit namkeen is enriched with goodness and health, so you can guiltlessly munch on this through the festivities! After all, the best new beginnings are the healthy ones right?

Ingredients
– Lotus seeds/Makana – 3 cups
– Rostaa's Cashews – ½ cup
– Rostaa's Almonds – ½ cup
– Raisins – ½ cup
– Sendha salt – 1 teaspoon
– Black pepper powder – ½ teaspoon
– Ghee – 1 cup
Instructions
– Remove stalk from the raisins.
– Heat enough ghee in a pan. When the ghee is rightly hot, drop lotus seeds to it and fry until they get a little brown in color from all sides. Drain out the fried Lotus seeds/makhana in a plate.
– Now add Rostaa's Cashews to the ghee and fry until they get slightly brown in color as well. 
– Take them out in a plate and likewise fry the Rostaa Almonds. Keep the flame low while frying. Take out the fried almonds on the same plate.
– After this, in a big mixing bowl add lotus seeds/makhana, Rostaa's Cashews, Almonds, raisins and mix them well.
– Sprinkle some sendha salt and mix again.  For a spicy touch add some black pepper powder and mix everything really well.

#LBBTip: This namkeen can last upto 2 months, so make sure you pack it well so you can bring this out for any sudden house guests as well!
Dry Fruit Modak
How can we not include the favorite food of our beloved God? A classic mithai during this festive season, make delicious and mouthwatering version of modaks with Rostaa's products.
Ingredients:
Rostaa's Almonds – 2 tablespoons
– Rostaa's Cashews – 3 tablespoons
– Rostaa's Medjool Dates -8
– Raisins – 2 tablespoons
– Coconut – ½ cup
– Ghee – 1 tablespoon
– Water – 1-2 teaspoons
Instructions:

– First, take Rostaa's Almonds and Cashews in the grinder or food processor. Make a powder by pulsing them.
– Now add Rostaa's Medjool Dates, raisins and the dry coconut. Again, pulse it till a coarse mixture appears.
– Add ghee, water and mix them well.
– Remove that mixture onto the plate. Grease the modak moulds with ghee.
– Start shaping using the mould, and smooth out the bottom surface and carefully open the mould.
Bonus: You don't need sugar or jaggery, as the sweetness will come from the dates.
Badam Halwa
A favorite of ours for any occasion, the badam halwa is a quintessential staple of our festive diet. Make yours special with the goodness of Rostaa.
Ingredients:
– Rostaa's Almonds – ½ cup 
– Water – 1 cup
– Milk – ½ cup 
– Ghee – 2 tablespoons 
– White sugar – ⅓ cup 
– Saffron – 4 strands
– Green cardamom seeds powder – 1/4 teaspoon
Instructions:

– Take Rostaa's Almonds in a bowl. Pour a cup of hot boiling water and soak the almonds for at least 5 minutes.
– Drain all the water and rinse it with cold water. Then peel the skin.
– Take the peeled Almonds and milk in a blender and grind into smooth puree.
– Heat the ghee in a pan on medium heat. Once hot, add pureed Almonds and stir continuously while cooking
– Keep cooking till all the milk or moisture gets evaporated and it starts to leave the sides of the pan. Add saffron strands and sugar. Mix it well.
– Keep stirring and cooking till it starts to leave sides of the pan and ghee will ooze out.
Garnish each bowl of halwa with a strand of saffron for some added effect.
With Rostaa's wide range of food products,  including their range of nuts, dried fruit and berries, mixes, confectionery goods and more make every festive occasion special! Check their website for more information. Follow them on Facebook, Twitter and Instagram for exciting updates.