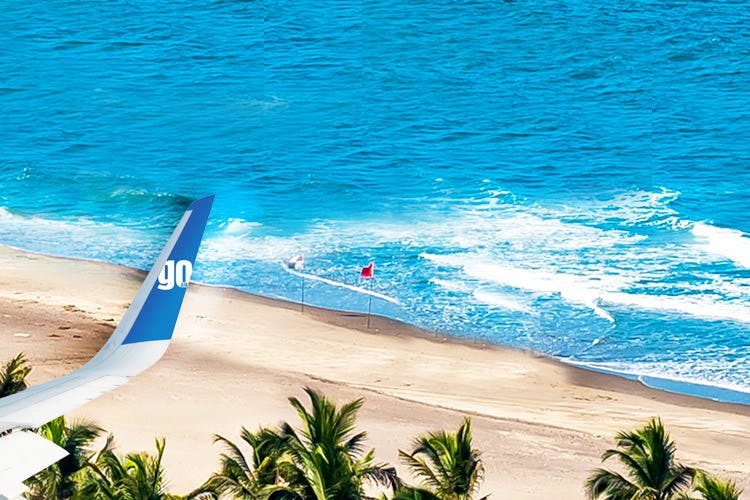 Drink Inside A Feni Cellar OR Stay In A Museum: Here's A Goa You've Never Seen Before! Book Your Flight Tickets Right Away With GoAir!
Are you looking to get away from all the hustle and bustle of the city? We feel you! Why not head to Goa and enjoy some quality time with your family and friends for the Dusshera long weekend (Oct 5th-8th?). And if you feel that Goa is all about those same old beaches, you're wrong! We've curated a list of unique things for you to do and see that includes drinking inside a feni cellar and staying in a museum! So, stop thinking and start booking for that long weekend! Remember, you pay less if you book early!

World's Only Feni Cellar
Goa is home to the only Feni cellar in the world which has tasting sessions and BBQ dinners. The Cazulo Premium Feni Experience involves a visit to a cashew orchard, a walk through the traditional distillery, a tasting session and even a meal under the stars (or sun)! They also have a cellar tour, where you will learn about the cultural insights and folklore associated with Feni.
#LBBTip: Be smart and take leave on 7th October (Monday) and enjoy an extended 4-day break in Goa! Convince your friends to do the same, book your tickets ASAP and enjoy #WeekendGetawaysWithGoAir!
Not Only About Beaches!
We're sure the only thing you've done while visiting Goa, is chilling on the beach. However, there is so much more to Goa than this! Were you aware that there are a number of huge waterfalls where you can enjoy a trek or a picnic? Some must-visit waterfalls are the Kuskem Waterfalls, Savari Waterfalls, Keserval Springs and Bamanbudo Waterfalls. You should also visit Goa's Latin Quarters which has gorgeous and colorful houses, old bakeries, art galleries, and legendary cafes!
#LBBTip: Waiting till the last minute to buy tickets always turns out to be expensive. You need to start planning in advance, else you will end up staying at home and will only be experiencing FOMO! Why not book at the earliest with GoAir?

Stay In A Museum!
Why not steer away from the touristy stuff and spend one night in a museum? The Figueiredo Heritage Inn is an Indo-Portuguese museum and mansion that is absolutely vintage. The house is filled with family artifacts and interiors that are curated from different parts of the world. They also serve delicious Indian, Continental, and Goan-Portuguese food!
#LBBTip: Where ever you are reading this, Goa is closer to you thanks to GoAir's 5 daily direct departures from Mumbai, and affordable too. Take your pick from the varied timings the airline has to offer- from early morning to mid-day to late night, everything is covered by them. Head there right away and create some #Instaworthy memories for a lifetime!
Fishing Trips And Sunset Cruises
If you love the sea (which we're sure you do-why else would you come to Goa?) then make sure to experience a cruise on the Goan waters, which can range from luxury yachts to houseboats. Go through a Kayak on the mangrove forests, or take a dolphin-spotting tour. There is also a restaurant Toro Toro, which takes people on boats on fishing tours, and whatever the guests catch, is served to them for dinner. Doesn't this sound amazing?
#LBBTip: Download the GoAir mobile app and use the promocode GOAPP10 to get 10% off on bookings! If it's Goa, it has to be GoAir!

So, We're Saying...
We hope we've convinced you enough about why you should book your tickets to Goa with GoAir right away! Book your tickets here.

Comments