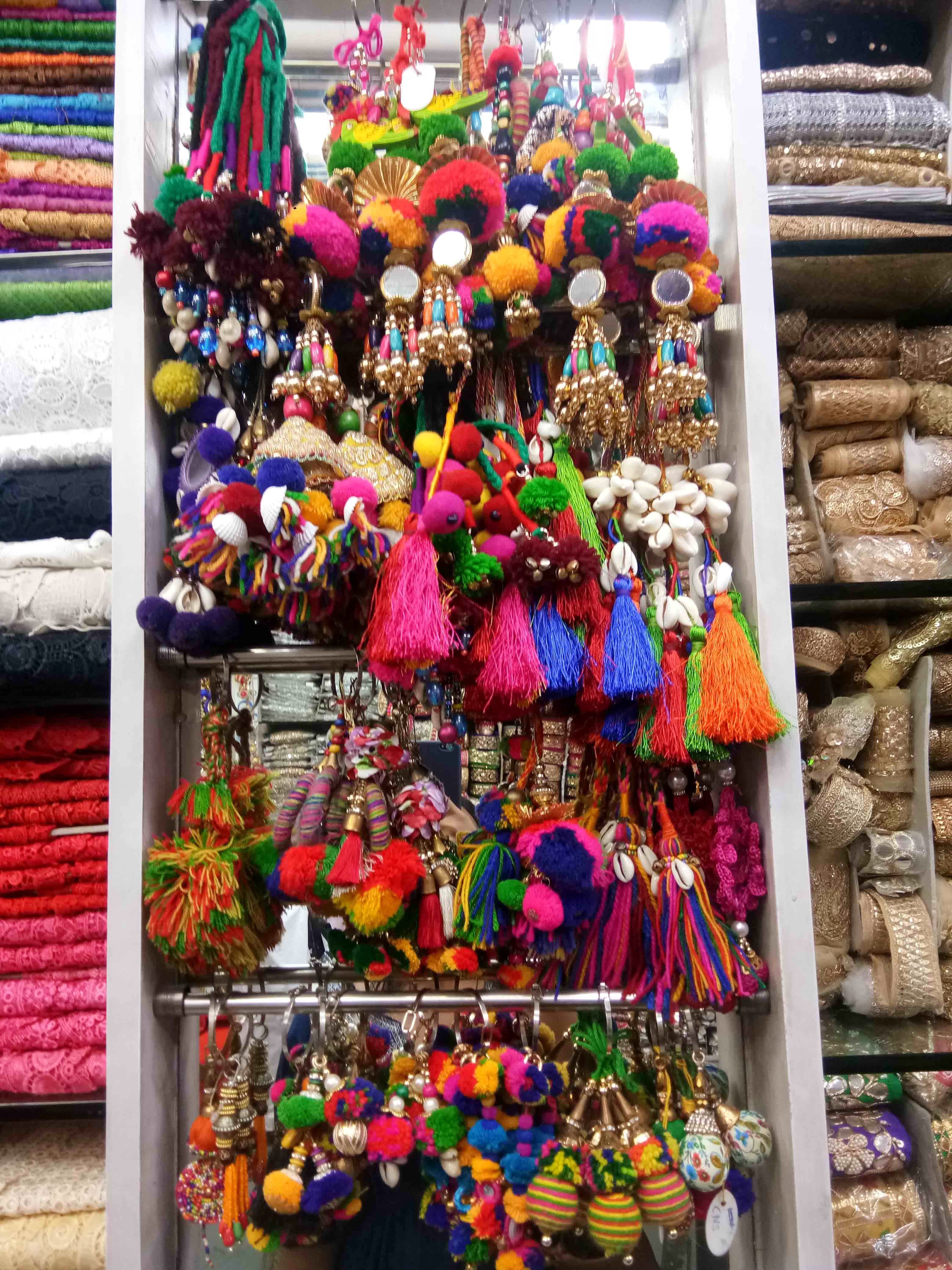 Colorful Appliques, Shararas, & Pop Sockets: This Shopper's Paradise Is A Great Find
You probably have raided Manish Nagar Shopping Center before for the gorgeous sarees and cut pieces that Tirumala has to offer. You also must have bought a roll of lace from Ruchi Collection. But have you gone beyond the usual stores inside the market? If the answer's no, then you've got to read further!
Glamour Fashion Accessories
Right next to the gigantic Tirumala is a tiny store that hoards laces, borders, latkans, and tassels for you to get your perfect wedding blouse stitched. We bookmarked Glamour, for every time we need to add some bling to our wardrobe. Art and craft lovers, you can also get some owl appliques to quirk up your plain denim jacket, or make earrings out of the colorful tassels and latkans, available in various shapes and sizes.
Price: INR 400 a pair for tassels; INR 350 (approx) for a roll of lace.
Divine Collection
For the times when you feel dramatic and want to add some sharara in your festive look, trust Divine Collection's salwar kameezes, shararas, and anarkalis. They've got heavy zardozi work, as well as patterns with simple designs. You can pick your favourite.
Price: INR 5,000 onward for a sharara-kurta-dupatta set.
Vimal Collection
You'll find your regular-wear kurtis, pallazos, lingeries, and nightsuits at Vimal. And the price doesn't burn a hole in your pocket too. We personally love the fact that Vimal's all-in-one. During monsoons, they have a section for quirky umbrellas and raincoats too.
Price: INR 500 onward for kurtis, INR 750 onward for raincoats, and INR 550 onward for pallazos.
Aqsa Collection
For those cutesy pop sockets with pug and unicorn prints, Choice Corner is perf. We got ourselves a few Pizza pop-sockets at a dirt-cheap price. And we suggest you too get must.
Price: INR 80 onward.
Cameo Western Outfits
Their shrugs will give the biggies a run for their money. And their denim jackets come with quirky applique work on the back side. What's more to love? They've got jumpsuits and peplums for you as well. You can call them on 7506590090.
Price: From INR 600 onward.
Shri Art Gallery
In case you want party wear with long skirts in net and satin, this one needs to be bookmarked. They've got them in a variety of colors. And the quality is bang on. You can call them on 022-26371462.
Choice Corner
We spotted a gorgeous set of Pride earrings with woolen tassels. Obviously, we had to grab it before anyone could grab that last piece (they're getting new stock again, don't worry.) You will also get sunglasses, beauty products, and pretty oxidized jhumkas from Choice Corner.
Price: INR 100 onward.
Ask Oindrilla a question