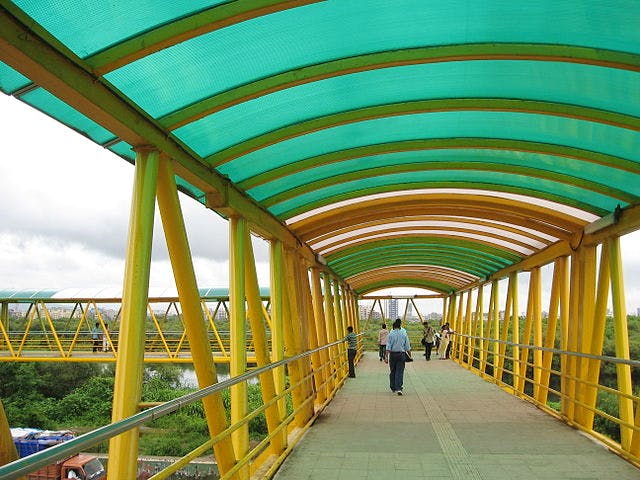 Heard This? A First-Of-Its-Kind Skywalk Will Connect Thane To Mumbai & We Couldn't Be Happier
Keep Walkin'
Each day there is a flurry of people who commute from Thane to Mumbai for work and other purposes. And if you happen to be one of them, we've got some good news for you.
Seems like a one-of-its-kind skywalk connecting Thane and Mumbai (crossing over a creek) has been sanctioned by the authorities. According to this report, it is India's first ever skywalk that will connect two cities, which will ease the burden of at least 25,000 commuters who cross the railway tracks to get to the other side. It is planned to be 605 metres long and 145 metres wide; wide enough to accommodate peak hour crowd too. While it will land near Thane station on the Mumbai end, across the water body in Thane district, it will connect to Vitava.
According to this website, the skywalk will have state-of-the-art facilities such as elevators and seating arrangements for senior citizens, firefighting equipment and clear signage boards that will provide all the necessary guidance to commuters. Additionally, it will be monsoon-proofed for the convenience of the commuters by installing anti-skid flooring (that sounds like a huge relief!).
Slated for completion in March 2019, we're hoping this skywalk reduces the number of casualties that are caused by commuters simply crossing the tracks in order to avoid a 20-minute walk.
Comments