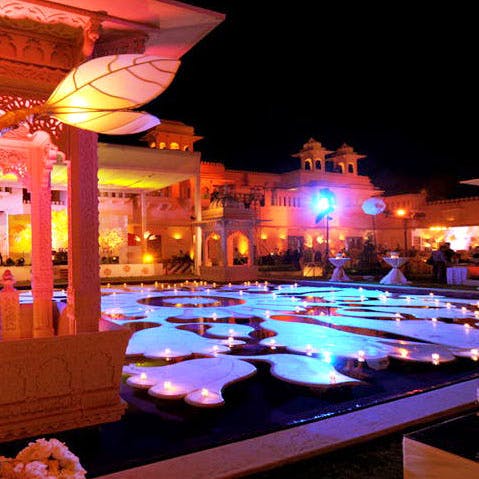 D-Day Coming Up? 6 Wedding Planners You Need To Hit Up Right Now
You've got yourself a fiancé(e) and the wedding bells are about to toll very soon. Now, it's time to incorporate that perfect plan to ease you into matrimonial bliss, and who better to assist than a wedding planner? With the perfect blend of being organised and satisfying every want that you may have, the wedding planner helps manage your budgets, venues, vendors and all the other itsy-bitsy details that go into planning your wedding and making your dreams come to reality. Here's a list of six of the best wedding planners in Mumbai that will help you stay in zen mode on your wedding day.
The Wedding Co.
Started by Barkha Athania, the Wedding Co., based out of Fort helps you choose your venue, organises your sangeet, puts you in touch with the caterer, and even helps you up the ante when it comes to your wedding theme. In addition, they help provide security to ensure no gatecrashers arrive and even help you choose your honeymoon destination.
Specialities: Design and decor arrangements for sangeet, mehendi and the main wedding event, guest accommodation, unique gifting options, and honeymoon planning.
Signature Aesthetic: Bringing a fresh perspective to wedding design, event planning and management, merged with traditional wedding planning and etiquette.
The base price is INR 3 lakh upwards.
Momente
Momente is a professional wedding planning company whose training, expertise and contacts will help make your wedding as close to perfect as it possibly can be. They claim to be so efficient that 'you end up becoming a guest at your own wedding'. While that sounds too good to be true, we know that the wedding madness is something brides, grooms and their families can't avoid.
Specialities: Destination wedding venues, decor, transport and logistics, wedding gifting, photography and cinematography, and other support services like calling the pandits or the baraat band.
Signature Aesthetic: Consciously working with families to customise the perfect wedding for the couple.
Their cost varies as per your requirements but starts from INR 4 lakh upwards.
Elite Wedding Planners
Co-founded by Sujoy Pathak, Ruchita Parelkar and Aloha Mehta, Elite Wedding Planners take only a few orders a year to ensure that they provide the best possible services right up to the minutest detail.
Specialities: From helping you find your perfect venue, to managing all the vendors, creating an overall wedding style to designing floral designs and décor, selecting cuisine and stationery design, they do it all.
Signature Aesthetic: Planning the perfect location for the couple and providing the services to follow suit.
They start at INR 2 lakh upwards.
Wedniksha
From creative conceptualisation to execution, Wedniksha houses experts in various departments such as technology, stage design, organisation, set up and guest relations. They have also arranged for popular Indian and international performers for pre and post-wedding events.
Specialities: Sounds and lights, quirky entrance decor, fireworks and digital invited. Though they mostly focus on wedding planning, they also help execute smaller and more intimate celebrations such as anniversaries, birthdays, theme parties and other social gatherings.
Signature Aesthetic: Their specialised services include exquisitely designed personalised invitation cards, and décor with internationally acclaimed exclusive floral designs.
For a basic wedding plan, it can cost you about INR 5 lakh upwards.
Two Fat Ladies
Started by Namrata and Naresh, this quirky wedding planning duo weave parts of your story into their décor, to help you celebrate your special day in the most intimate way possible.
Specialities: They try and incorporate as many real-life experiences in their work as possible.
Signature Aesthetic: While they have in-house decorators, you are free to pick your own choice too.
Their charges range from INR 3-5 lakh
Krayonz Entertainment
An event management company that specialises in all kinds of events, wedding planning is one aspect that they constantly focus on. From picking the venue, budgets, invitations, themes, travel and lodging – they help you plan your D-Day from pre to post wedding. They also offer their services for selecting and purchasing your wedding jewellery.
Specialities: Thematic and destination weddings, event conceptualization, DJs and live musicians
Signature Aesthetic: They try to ensure that each event is styled in such a way that it retains your characteristics and image.
#LBBTip
Wedding planners can also help to plan and book your honeymoon! So talk to the planner of your choice and then, sit back, relax and have the wedding of your dreams.
Comments