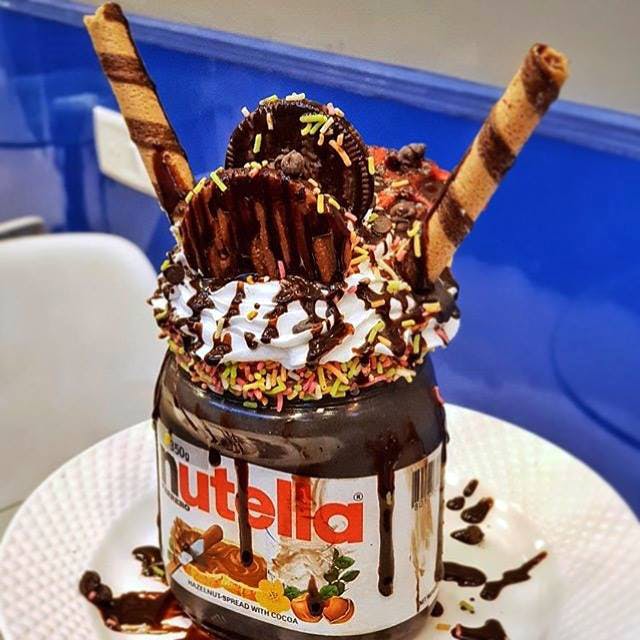 Hazel-Nuts About Nutella? Try These Nutella-Centric Desserts In Mumbai
Most desserts haven't reached their full potential until they've been slathered with Nutella. You can make anything taste good with even a spoon of this simple chocolate and hazelnut spread... Which is so good even on its own! Here's a list of our favourite Nutella-centric desserts in the city.
Nutella & Toffee Tarte Fine, Mirchi & Mime
Enjoy a hearty meal at Mirchi & Mime in Powai, but don't forget to save some space in your tummies for their Nutella & Toffee Tarte Fine, a dessert that is full of dark chocolate and chocolate ganache. Just make sure that you've planned your visit well in advance, and book your table before you head out. It's really popular, so it's almost always packed.
Price: INR 255
The Raasta Special, Raasta
Raasta is popular for its awesome dining experience and the music that adds to the ambiance of the place, but not many might be aware of their signature dessert - The Raasta Special. Neatly tucked away on some page with no indication of being a Nutella dessert, you might just miss it if you don't look out for the name. It's a delectable pastry with a melange of Rastafarian colours and generous amounts of luscious Nutella. Are your mouths watering already?

Price: INR 225
Nutella Crunch Freakshake, Icekraft
Served in the Nutella jar, this freak shake comes with all sorts of toppings and will require at least two people to finish it (unless you're one hungry customer!) The toppings include chocolate waffle rolls, Oreo biscuit crumbs and pieces, chocolate sprinkles and lots of ice cream. We'd suggest you carry a bib for yourself, because we're sure it's a messy, indulgent eat!
Price: INR 265
Nutella French Toast, Grandmama's Café
We've all enjoyed our French toast for brekkie, but the idea of gorging on Nutella with one of our fave meals is just too much to handle! Over here, sliced bread is laced with lots of warm Nutella, dipped in Grandmama's batter and pan seared. It is drizzled with icing sugar dusting before being served.
Price: INR 290
Nutella Waffle, Tea Villa Cafe
Served over a platter that looks like an edible bar of chocolate, these waffles are always loaded with Nutella, white chocolate chips, and milk chocolate. They're available across Tea Villa Cafe outlets across the city. Oh, and if you're trying to up your fruit intake, definitely get the Nutella Banana Waffles. It's a win-win, 'cause you've got fruit, and you've got Nutella!
Price: INR 325
Nutella Brookie Sundae, and the Nutella Philly Cheesecake at Chantilly
Chantilly is a tiny cafe in Bandra that doles out some super sinful desserts. We LOVE the Nutella Brookie Sundae, made with brownie batter and cookie dough, with a Nutella-filled centre... Served with ice-cream, chocolate chips and more! While you're at it, you must also try their Nutella Philly Cheesecake. Trust us, it is out of this world!
Price: The Nutella Brookie Sundae will cost you INR 250, and the Nutella Philly Cheesecake will cost you INR 260
Nutella Gulab Jamun, Umraan Regional
While we don't need an occasion to celebrate and gorge on Nutella, Umraan Regional (Bandra and Oshiwara) decided to give us the best of both worlds. They have infused the Gulab Jamun with Nutella, and we cannot get over this beauty. While it might sound obnoxious, don't knock it before you've tried it!
Price: INR 149
Nutella Paratha, Oye Kiddan
Normal parathas are great, but this Nutella Paratha. This is just soul food, man. The warmth of the paratha makes the Nutella filling melt just right, and it's just the perfect, perfect crossover dessert. Ask for this the next time you're craving Nutella, AND North Indian fare.
Price: INR 130
Comments