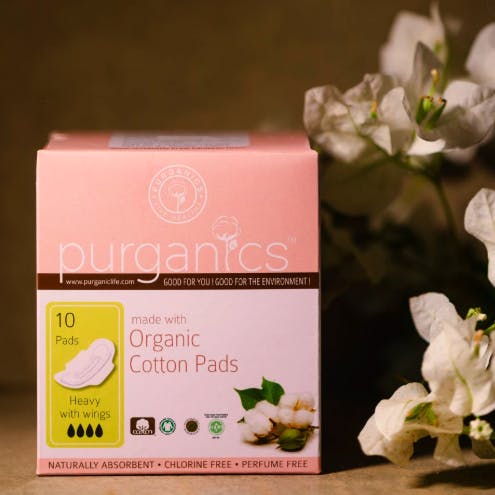 Bye Bye Rashes: Brands To Swear By For Organic Sanitary Pads & Tampons
Menstrual hygiene is a topic that has been taboo for the longest time, but now, thanks to mainstream cinema talking about it, and online groups spreading encouraging messages, we've all started taking it seriously.
Today, menstrual hygiene in its own right has become an industry of its own, with a number of products available for women. Some manufacturers have even taken the organic route, and we profile such market players.
Saathi Pads
An online portal that sells sanitary napkins, Saathi Pads says that the products are made out of banana fibre and are 100% biodegradable. Inspired by improving women's access to sanitary pads in the country, Saathi buys banana stems from local farmers (which after harvesting are normally discarded). So, their initiative is beneficial both ways - environmentally and socially.
What We Love: Biodegradable, monthly subscription services, bleach-free to avoid rashes, made using natural material.
Cost: INR 180 (for packet of 8 pads)
Vivanion
This 'three-in-one' organic pad claims to be anion-powered. According to the company's website, "the negative ions from the strip move up the womb through the vagina, improving blood circulation. This facilitates smooth discharge of blood clots in the vagina and repairing of the womb." This, they say, improves bacteria resistance and prevents any inflammation.
What We Love: Scientific innovation, herbal and organic, different sizes of pads in a pack for the entire cycle.
Cost: INR 199 (for a pack of 10)
Purganics
Pure + Organix = Purganic
They've a line of all-natural feminine hygiene products, which includes sanitary napkins, tampons and panty liners. What really caught our fancy was that they are hypoallergenic, pH compatible with delicate vaginal skin and also have a waterproof plant-based backing.
What We Love: Organic and biodegradable, high quality, naturally absorbent
Cost: INR 350 (for a pack of 10)
Ecofemme
Ecofemme provides washable cloth pads, how cool is that? Unlike disposable sanitary napkins, they can be washed and re-used for years (yes, that's true). The pads are made of natural material – cotton – that is biodegradable and healthy for women's bodies. Interestingly, they also have menstrual cups (which we've been dying to try).
What We Love: reviving the traditional practice of using cloth, reusable, environmentally sustainable, multiple layers of protection.
Cost: INR 260 (one cotton pad)
Organyc
Claiming to use only organic and natural materials that meet the highest environmental and biodegradable standards, Organyc's pads are 100% certified organic cotton inside and out. However, they are slightly more expensive than the others, but we're willing to pay the price for quality products. Interestingly, they also sell tampons, panty liners, baby wipes and an intimate wash.
What We Love: Secure hold, multi-layer to avoid leakage, breathable and extremely soft.
Cost: INR 405 (for a pack of 10)
Carmesi
Made from all-natural ingredients like corn and bamboo, Carmesi pads are here to protect you against harsh rashes and infections. As the top sheet of the pads are made from corn and corn starch, which is a natural soother for the skin. Further, every pad comes with a disposable bag which is biodegradable, so you don't really need to worry about a polythene bag or tissue paper.
What We Love: Incredibly light, hassle-free disposal bag, irritation-free.
Price: INR 250 (for a packet of 10 pads)
Nua
Apart from their innovation and better product design, the best part about this brand is the deep level of customisation they offer. Thus taking feminine care to a whole new level. Select your own assortment of pads depending on your flow - light, medium or heavy. You can also opt for their subscription wherein you just need to share your period details and pads will be delivered just in time. So, no last-minute emergencies. You can stop the subscription anytime and opt for one-time delivery as well.
What We Love: Hassle-free disposals, better-designer pads, customised packets, amazing packaging, rash-free.
Price: INR 169 (for a packet of 12 packs)
Comments