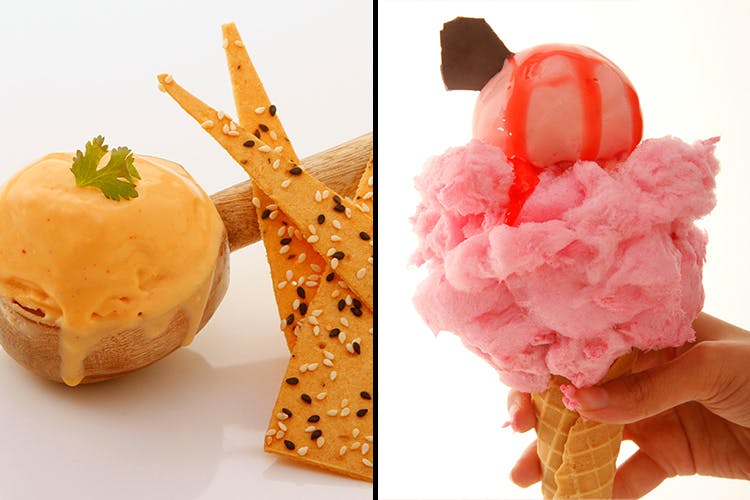 Are You Brave Enough To Eat Sushi And Hummus-Flavoured Ice Cream?
Shortcut
Ice-cream parlour Papacream in Churchgate is not only adorable with its cycle-wheel stools and décor, but also has the wackiest flavours to try out.
Chow Down
Heard of sushi ice-cream before? We hadn't for sure, but that's something you can try here. This place has a bunch of ice-cream, sorbets and sundaes in waffle cones. We would say, that though you have the classic offerings of any ice-cream parlour, you've gotta try their hummus-flavoured ice-cream served with lavash sticks, the aforementioned sushi one or even tiramisu ice-cream. The cherry on the cake is the that they have a pink bubblegum candy floss ice-cream, inside a waffle cone. Talk about a massive throwback into the good old days.
Sip On
Milkshake, of course. And nothing ordinary at that, as you can sip on their butter-popcorn flavoured or Belgian chocolate milkshake.
So, We're Saying…
A blast from the past and an ice-cream brain freeze are two things that never go out of style. If you come from a different school of thought, we're sure that we can settle this over a red velvet waffle with bournvita ice-cream, can't we.
Comments