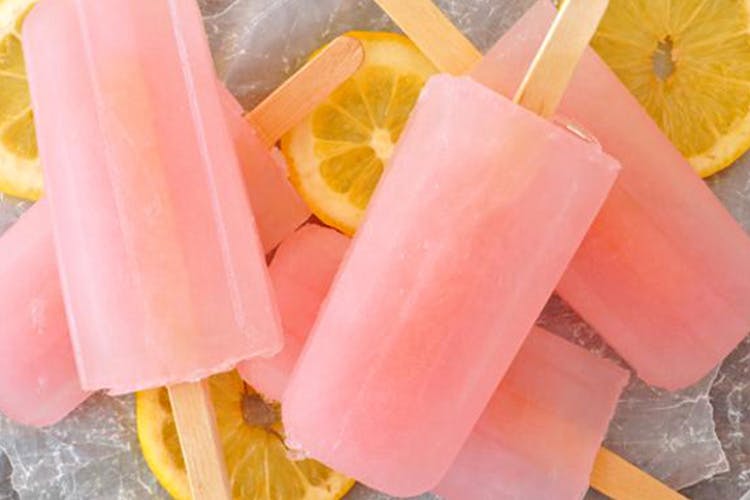 Beat The Heat With Popsicles At These Eateries In the City
With the temperatures soaring, we are shifting over to the popsicle diet (good news- we found super healthy options too!) We went around town looking for the best, most refreshing and most flavourful popsicles, and here is what we found.
Oasiss Desserts
This cute dessert parlour in Matunga is famous in the neighbourhood for its unique and super delish cakes and desserts, but this summer it's the popsicles that have got us excited. For INR 130 you can make your own popsicle by selecting your candy, dip and topping. Choose from flavours like strawberry, Nutella, Belgian chocolate and jelly, mix and match and play around with combos and enjoy the summer afternoons with these cutesy popsicles.

Belo Pops
Welcome to popsicle heaven! Well, no one's too old to dive into each and every flavour that this dessert parlour in Andheri has to offer, and after sampling their organic, handcrafted flavours we know why Mumbai says this place has the best pops in town. Choose from over 200 flavours that include lychee, coconut, chocolate, oreo cheesecake, vanilla, cookie dough, tamarind chilli lime, strawberry cheesecake and a lot more. They also have gluten-free, sugar-free and vegan options available. A popsicle date for two will cost you INR 300 here.

Frugarpop
This cute, quirky dessert parlour is total dessert-date goals, and super Instagram friendly. Head over on a hot summer day to enjoy dairy-based and real fruit-based popsicles at this lovely dessert café in Pali Hill. Their popsicles start at INR 120 for the real fruit (vegan) flavours and INR 150 for the dairy-based options. Our favourites here are the tiramisu, guava, banana waffle Nutella and blue bounty.

Icecreamo
This dessert parlour on Charni Road is a hole-in-the-wall establishment that takes you on a nostalgic journey as you enjoy a popsicle (or two) What we really liked what that the fruit popsicles had real fruits in them. Their popsicles start at INR 100, and you can choose from a range like litchi, jelly, jamun, chilly guava, watermelon basil, hazelnut cream, oreo, etc.
Iscicle
This dessert parlour in Andheri is another hidden gem that we managed to stumble upon on our quest for good popsicles around our neighbourhood. They have water, fruit and milk based popsicles and they are priced between INR 100 to INR 175. They have interesting flavours like paan, guava, mango, fruit fusion or mango cream to choose from.
Ask Oindrilla a question