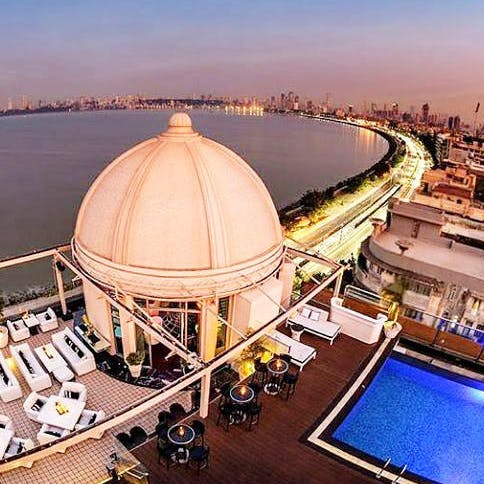 #CoupleGoals: Romantic Restaurants You Should Be Visiting This Monsoon
Rains are here and it's the time for romance, if of course you don't get caught in a sudden shower or in a traffic jam. Such a buzz kill that would be. So. let's do this again: Imagine being at a restaurant with a loved one and watching the rains go by while ordering your favourite soul food and poison. Sounds perfect, doesn't it?
To keep you pushing ahead to achieve these dreams, we've compiled a list for you.
Gallops
A heritage restaurant in a heritage part of the city, Gallops gives you a view of Mahalaxmi Race Course on one side and tonnes of greenery on the other. Sounds too good to be true, doesn't it? Go and explore it yourself. We recommend you book a table a day in advance.
Things To Try: Mushroom Risotto, Mutton Biryani
1BHK
It's a great place located in Andheri East, and most patrons rave about the romantic ambiance, especially during the rains. It recreates a homely feel, cosy and quaint, right down to bringing your cheque in a John Grisham novel instead of a regular bill folder.
Things To Try: Peri Peri Fries, Risotto, Minestrone Soup
The Yoga House
This great treehouse-like eatery is like a mini jungle in Bandra, that gives you some great view of the cacophony around you. Actually, it's quite romantic in the monsoons. With some healthy food in its menu, it is perfect for that hot cup of chai in this weather.
Things To Try: Carrot Cake, Paneer Bhurji, Salads, Burgers
Woodside Inn
The gorgeous streets of Colaba are full of some quaint eateries, one of them being Woodside Inn. Having a charm of its own, like being on one of the cobbled streets of Europe and finding a hidden gem cafe, this gorgeous place serves things we call crave whether there's rain or sun.
Things To Try: Gourmet Pizzas, Pastas, Burgers
Estella
With wooden flooring, comfy interiors and opening out onto Juhu beach, this place has to be one of our top favourites! You can see the waves crash in front of you, enjoy a drink or two and sample their fare whilst watching the rainfall – what could be more romantic than this?
Things To Try: Seafood, Chicken Skewers, Finger Food
Salt Water Cafe
Situated right next to the beach, this iconic eatery has so much to offer besides a great view. With minimalist-style decor, it's a great place to unwind and catch up with friends. With the monsoons right here, it makes for the perfect place with a view that stands out.
Things To Try: Gnocchi, Pancakes, Burgers, Warm Croissants
Kitchen Garden by Suzette
Cozy wooden interiors with steel and stone décor adding to the old world charm of this cozy, earthy space, Kitchen Garden by Suzette is one of the most frequented spots to enjoy cozy dates in the monsoons.
Things To Try: DIY Healthy salads and sandwiches, smoothie bowls, and vegan desserts

Prithvi Café
The ambiance here is our favourite at any time of the year, but in the monsoons it's particularly magical. Fresh air, green plants all around, pea lights, and a cup of hot coffee make for the best date with bae. If you're a theatre fan, check their schedule, book a ticket and make a night of it.
Things To Try: Irish coffee, cutting chai and tea-time snacks and old-school favourites like the decadent paranthas
Le15 Colaba
This dessert parlor and café is a popular choice of venue whenever we think of a date, and cozying up with cups of hot chocolate and some of the best desserts in Mumbai does seem like the best idea, doesn't it? Plus the café is Instagram friendly, so you know you're coming back with great pictures!
Things To Try: Breakfast specials, salads, and waffles both sweet and savoury

Leaping Windows
Take a table for two outside and watch the rain as you sip on your coffee, or cuddle up with comics and books in the library indoors, or choose a cozy corner in the upper section where you're not likely to be seen or heard by many. The ambiance here is perfect to cozy up, and the pancakes, coffees and hot chocolate definitely help make this a memorable date.
Things To Try: Cold coffee, eggs made to order, and sandwiches

Dome, Intercontinental Hotel
The all-white ambiance, the exceptional service and stunning views of the rain washing over Marine Drive set the mood right for a cozy, picture perfect date. Add to this the lovely finger food and cocktails, and you're set for a memorable night out!
Things To Try: Bar bites and signature cocktails

Comments