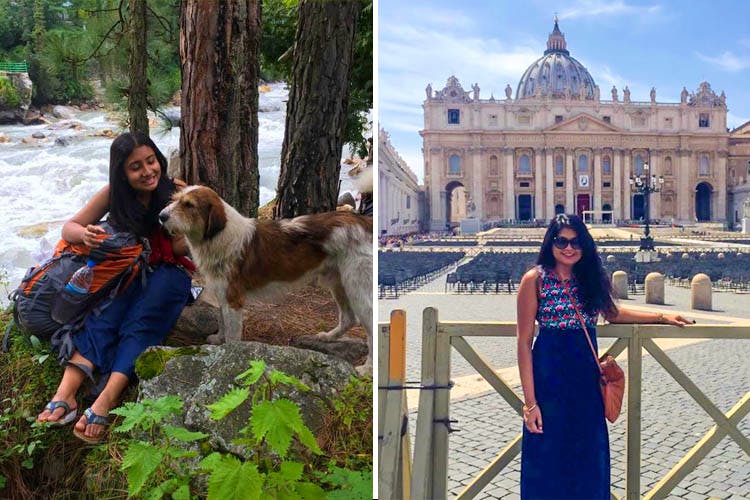 5 Mumbai Women Tell Us How To Make That Epic Solo Trip Happen
What Is It?
Everyone likes a good holiday, but most of us usually do it as a couple's thing or a group vacation. Yet, there are those who prefer their own company and take these trips to rediscover themselves and come back to become better individuals. We profile five such women.
Elita AKA Nomadic Thunker
Elita has been blogging for the past eight years on themes such as body positivity, travel, mental health, and well-being. Here's her solo trip experience:
Destination: Kutch
Why Choose The Destination: I chose Kutch in March/April 2014 after I'd gotten curious about the White Rann. I had travelled to Ladakh and Spiti previously and there was something about barren landscapes that had left an indelible mark on me. I thought I had been wowed over enough, but Kutch proved me wrong.
Places Visited: With inputs from my homestay host, I visited Bhuj, the artisan villages of Bhojodi, Khamir and Ajrakhpur as well as the White Rann, Kalo Dongor and Dholavira.
Memory That Stood Out: Dholavira continues to remain one of the most significant memories from my travels thus far. To walk through the remnants of the Indus Valley civilization site is a humbling experience. You get to see the sheer ingenuity of the human mind in how town-planning was envisioned and executed.
Sites/Travel Group For Tickets: I booked my train tickets from IRCTC's website. I seldom, if ever, rely on travel agents or groups to make bookings on my behalf. But, I count on inputs from my homestay hosts and usually take it from there.
Your Initial Budget: I'd had 20k as a budget in mind. I definitely didn't exceed it.
What About Safety: Safety, I believe, is a state of mind. When travelling, irrespective of the destination, I do whatever I would do even in my hometown and be just as careful about my well-being. So if something does not feel right I will not pursue it further. One rule of thumb that I like to follow is to identify my accommodation – at least for the first night. I do all the 'due diligence' required to make sure it is a 'safe' place. In that sense, Kutch did feel very safe. I trusted and relied on my host to direct me while soaking in my experience.
What Did You Eat There: I chose to eat my meals at my homestay itself and indulged in the local Kutchi cuisine
Trip Cost: INR 20,000
Avni Chinoy
Avni Chinoy is an ad professional who loves to travel. Check out her experience:
Destination: Hampi
Why Choose The Destination: Left with a week between jobs and no friends free to travel, I started looking up 'safe places for women to travel solo in India' and Hampi topped almost every list. It seemed fascinating, cheap and close enough so I ended up choosing it.
Places Visited: All I booked was bus tickets to and fro. When I got off the bus at Hospet, I met an auto driver called Coffee (yes, it's a fake name he's given himself so tourists can remember him. It's actually Anand) who took me to a nice guesthouse and told me where I could rent a bicycle from. I got a map of the local sightseeing places and set off. Hampi is divided into 'hippie Hampi' and old Hampi by a river, and I went to all the ruins in the old side, where it was a pleasant surprise to find that most of the places are managed completely by women from the nearby villages.
Memory That Stood Out: There are musical pillars. As in, pillars that make music! They're made from different types of stone, with varying thickness according to the instrument they're going to sound like. All you have to do is tap them with a stick. Also, viewing sunsets from atop boulders that overlook all of the fields.
Sites/Travel Group For Tickets: I booked bus tickets from Redbus, VRL AC sleeper is the way to go! From Mumbai that was about INR 3,000 return (most expensive part of the trip though) and guest houses charge about INR 500 a night. There's a lot of amazing Indian and Israeli food places that aren't expensive. For the whole trip of 6 days, I spent about INR 10,000.
Your Initial Budget: My budget was INR 15,000, but on the one week trip I spent INR 10,000.
What About Safety: I didn't feel unsafe for a moment, even when I took a coracle trip by myself across the river late at night, with no lights in sight and a 12-year-old boatman for company. Hampi runs on tourism, so they're very careful that no tourist has a bad experience there. I was asked to watch out for bears at night though!
What Did You Eat There: Lots and lots of Israeli food, amazing pancakes for breakfasts, really good aloo parathas and a mean thaali or two.
Trip Cost: INR 10,000
Rebecca Samervel
Rebecca Samervel is a journalist in Mumbai. She travelled to Europe.
Destination: Across Europe
Why Choose The Destination: I always wanted to do a solo trip and I needed to be out of Mumbai. I was exhausted so on a whim, I booked my tickets and flew to Europe.
Places Visited: Rome-Florence-Nice-Barcelona-Madrid. These were on my wish list and thought it would be easier compared to other destinations for a solo female traveller.
Memory That Stood Out: There are too many to highlight just one. I made many friends during the trip and still keep in touch. Best memory was with this Irish roommate who I had just met in Nice. Both of us were travelling solo for the first time and were nervous. We decided to go out for a stroll and ended up having the best night. We saw the sites and spoke about our lives with so much ease. Had a fabulous dinner at an Italian restaurant and got tipsy on their house wine. Then, we met a Romanian waiter who told us how big Hindi serials were there. We came back to the hostel very late and continued partying at the pub downstairs.
Sites/Travel Group For Tickets: I'd used Emirates for the tickets, Booking.com and Hostelworld for accommodation and Busabout, a hop on hop off bus service, to travel around Europe. Busabout also helps with local activities that you can book. Did a 'sangria and paella' class and bike tour in Barcelona. Also used officials sites of all the museums/cathedrals/monuments I wanted to visit and booked tickets in advance. It saved me money, time and also standing in unending queues at the actual spot.
Your Initial Budget: My budget was around INR 2,50,000, but I did it in less!
What About Safety: It was absolutely safe. Just took the same precautions and care as I do in Mumbai.
What Did You Eat There: I ate a lot of local food. Pasta and pizza in Italy; Paella, Churros in Spain and on occasion found good Indian and Pakistani restaurants when I missed home food.
Trip Cost: INR 2,00,000
Shirin Mehrotra
Shirin Mehrotra is a freelance food and travel writer and works as a content strategist. Here are some snippets from her trip:
Destination: Sri Lanka, Meghalaya
Why Choose The Destination: I chose Srilanka because I was looking for a destination that wouldn't cost me too much and was easy to navigate since I am new to solo traveling.
Another memorable solo trip I went for was in Meghalaya. This was when I was looking for something slightly adventurous.
Places Visited: Colombo, Galle, Anuradhapura and Kandy (Sri Lanka) and Meghalaya
Memory That Stood Out: The best part was meeting solo travellers from different countries at a hostel I was staying at in Kandy. We made random dinner plans and ended up talking till late in the night over glasses of Arrack and beer. We made a WhatsApp group and still interact.
When I was in Meghalaya, my itinerary included trekking, sleeping in tents, kayaking. I made friends for life during this trip.
Sites/Travel Group For Tickets: So for my Meghalaya trip I booked with Chalo Hoppo, a travel company started by 4 young guys who design itineraries for North East. It was a trip where I was supposed to join other people.
The Sri Lanka trip was planned entirely by me. I booked my own tickets and booked my stays via Airbnb.
Your Initial Budget: My budget for Meghalaya was INR 30,000, excluding air tickets (I also took a two- day halt in Kolkata) and for Sri Lanka INR 60,000 including tickets and both the trips were well in that budget.
What About Safety: Both were great in terms of security. In Sri Lanka, I had a creepy tuk-tuk driver in Galle but quick thinking helped and I asked him to leave even though I had hired him for an entire day. But that was about it. Rest of the journey was quite safe.
What Did You Eat There: So in Meghalaya I ate a lot of Khasi food at the joints run by local women. So pork, chicken and fish dishes with daal and rice. Had local rice beer too.
In Srilanka, I ate hoppers, different kinds of bread, rice and curry meals, Sinhalese meals and drank Arrack.
Trip Cost: INR 60,000 for Sri Lanka and around INR 30,000 minus air tickets for Meghalaya.
Oindrilla Gupta
Oindrilla Gupta is an executive producer and describes herself as someone who likes to 'weave dreams, seek souls, and fight the turbulence of the twenties'. Here are some snippets from her solo trip.
Destination: Mcleodganj, Dharamkot and Triund
Why Choose The Destination: I was mentally stuck between wanting to take a risk, but also playing it safe. Not all destinations in Himachal are safe, now that I have travelled a lot in that state. My solo tour happened in Mcleodganj two years ago. It's called the Little Lhasa, and it's not as commercial as Dharamshala, Manali or Shimla, and there is peace. My core reason for choosing this destination is all the above reasons clubbed together.
Memory That Stood Out: I remember sneakily trying to take pictures of cute monks outside the Namgyal Monastery. But they soon realized that their privacy was being invaded. However, making a puppy face has always worked for me. After this, they not only chose to willingly pose for my travel vlog but also treated me to a brilliant spread of banana pancakes and Tibetan butter tea. I think when you are travelling solo, a little bit of friendliness is more than enough to make you feel safe.
Sites/Travel Group For Tickets: I did not use any travel group to plan the trip. Only used Booking.com for my accommodation at Mcleodganj, and Cleartrip for flight bookings.
Your Initial Budget: My initial budget was between INR 11,000 – INR 12,000. But, I only spent around INR 9,000.
What About Safety: It was very safe. People usually have a notion of North India being unsafe. Somewhere even I believed so. But at least Himachal Pradesh isn't. My trip was something I'll cherish for a long time to come.
What Did You Eat There: I thrived, and survived on local Tibetan dishes like thukpa, thenthu, momos. You get 16 chicken momos for INR 60 there. And sometimes I indulged in chai and Maggi. I don't usually spend too much money on food. But if I do, I make sure that I try the local delicacies of that particular place. Local food, local transport, and local people – that's how you get to feel the pulse of a place.
Trip Cost: INR 9,000
Comments