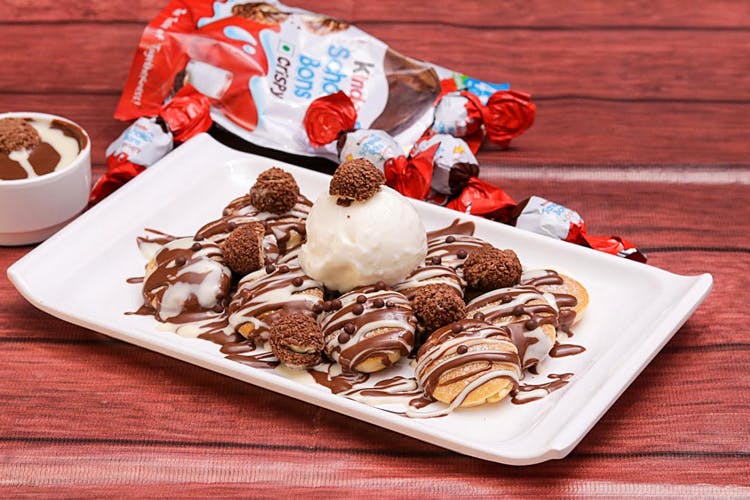 Satiate Your Senses With Divine Desserts At The Pancake Story
Shortcut
Are you craving pancakes which melts in your mouth and have fillings of nutella, white chocolate, cinnamon and more? We've found you dessert heaven where you can indulge in numerous options such as waffles, crepes, mini pancakes and even chocolate nachos! We're talking about the Pancake Story that is sure to leave you drooling for more. Read on to know more about their lip-smacking menu.

Pancake Me Crazy
There are more than 10 different kinds of pancakes in the menu! Ranging from Nasty Nutella Pancake to American Dream Pancake, you're definitely going to find something which caters to your taste buds. We would totally recommend trying the Signature Twix Pancake (a Chef's special) which is the famous combination of caramel and dark and milk chocolate with ice-cream and chunks of twix. Absolutely irresistible!

Dessert Nachos
We bet you've never heard of this combination before! There are 2 options in this- Berry and Cream Cheese, and Chocolate Bomb. While the berry one consists of white chocolate with cream cheese, blueberry compote, ice-cream and colourful sprinkles, chocolate bomb has dark and milk chocolate with banana slices, topped with brownie crumble, ice-cream and chocolate sprinkles. Need we say divine?

Beau Bons
Looking to try something new? The Kinder Schoko Bons, which is made up of nutella, white chocolate and vanilla ice cream, is definitely hard to resist. We've all grown up eating Kinder chocolate, and this unique dish is one of the bestsellers on their menu!

Make Your Own Story
If you're the type of person who likes customising their desserts, then this is the perfect option for you. Choose from a mini pancake, waffle, crepe and nachos and then make your selection of toppings. You will be spoilt for choice with all the varieties- almond flakes, dark/milk/white chocolate, oreo crumble, fruit compote and more. Top it off with some ice-cream and then enjoy eating your creation!

So, We're Saying...
We hope we've convinced you about why you've got to give your taste buds a treat by visiting the Pancake Story! And if you're still not convinced, come and check out for yourself what the fuss is all about!

Also On The Pancake Story
Ask sanya a question