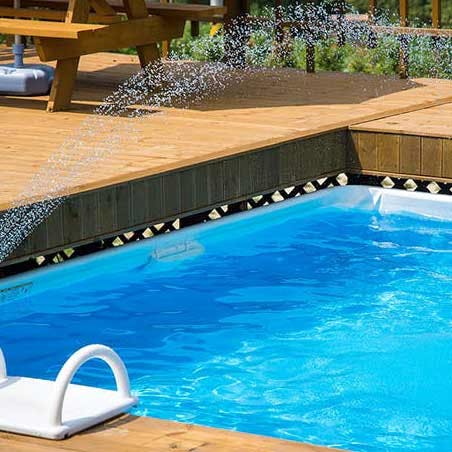 Stay Fit & Fresh: Summer Swimming In Mumbai Without A Membership
Now that summer is here, we're all up for spending all our free time in swimming pools. Most of the pools require memberships, but we've found some where you can enter on hourly or even monthly rates. Are you too looking around for swimming pools you can visit for classes this summer? Read on for our top favourites.

Elixir Gym
This gym in Lokhandwala offers non-members a chance to enjoy swim sessions, and the pay-per-session rates are INR 500 per hour. The timing for non-members to swim here 7 AM-11AM, 4 PM -10 PM from Tuesday to Saturday, Sundays 11 AM to 8 PM. Mondays the pool is closed for maintenance.
Inch by Inch - Swimming Pool
This swimming pool in Versova works out to be super convenient for us as it is open all day from 6 AM -10 PM (they close between 2pm-3pm daily for cleaning) and allow us access as non-members for INR 900 per day. You can swim for as long as you want to in that cost.
#LBBTip - they're running membership deals for the summer where you can get a membership for 2 months for INR 9,000.
Asmita Club
For those looking at swimming classes around Mira Road, Asmita's Club provides non-members an option to enjoy a refreshing class at INR 200 per hour only. The timings for non-members are limited so do call ahead before visiting.
#LBBTip - they have a gym too, and you can look at a combined gym and pool membership option in case you're looking for something permanent and long-term.
Karnala Sports Academy
This academy is all about sports, and if you've been looking around for swimming pools that help you get in a good workout without a membership this academy in Panvel gives non-members an access to their pool this summer. The rate is INR 100 per hour, and you can swim anytime between 5 AM -11 AM and 3 PM -7 PM in the evening. They also have coaching classes for the summer.
#LBBTip - please note, the non-member access is applicable this summer for 2 months only
Matoshri Arts, Andheri
If you are looking to learn swimming, Matoshri offers coaching classes for non-members as well as members. Classes start at INR 4,000 for adults for 16 sessions through the summer.
Ask Protima a question