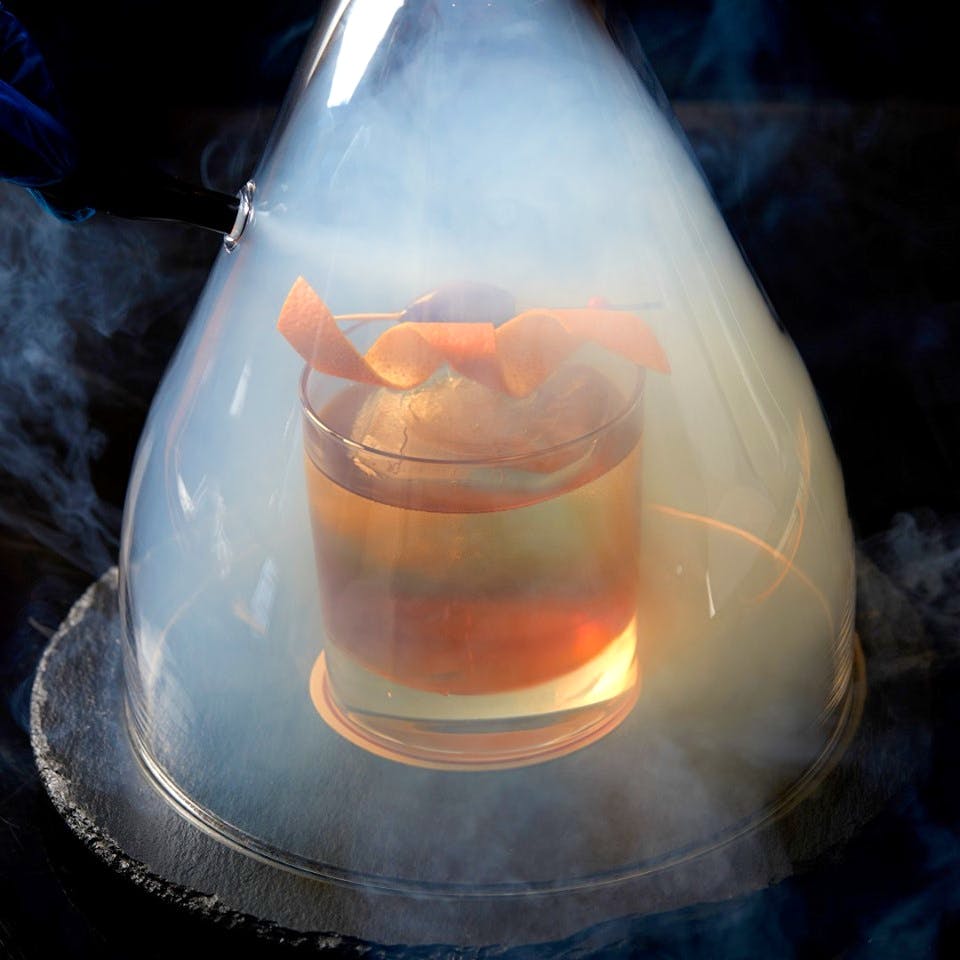 Marga-Write-A These Down: Here's the Lowdown On The Coolest Drinks In The City
There's 2 kinds of drinkers. The kind that sticks to what they know - certain beers, probably Old Monk, and maybe Whisky. Possibly Scotch, if that salary's just been credited. And then... There's that other kind. The kind that enjoys theatrics, presentation, and that experiential quotient. This list is for them... And you, if you'd like to be them. Read on!
Burnt Curry Leaf Martini at Masala Library
While we can harp on forever about how killer the food is at Masala Library, we're not gonna waste your time stating the obvious... So just don't miss the cocktails here, yo.
Our favourite is the Burnt Curry Leaf ,Martini - we love a drink that surprises us with its ingredients. Don't stick up your nose just yet... The curry leaf adds a lot of complexity to this gin-based drink. Don't knock it till you try it, you'll thank us!
Jokkmokk Kiss at Baraanaa
Baraanaa's menu is full of amazing cocktails, but this one's our favourite! Picture a rich, decadent Bengali sweet, transformed into a light-as-air and chilled cocktail. The Jokkmokk Kiss, though inspired by Sweden, reminded us of a Sondesh! Vodka, white chocolate, saffron and lychee come together to build this one. The best part? The drink's sprayed with rose essence just before serving. Don't miss the uber-romantic rose petals in the drink!
Honourable mention: The Indian Sour, and the French Kiss. You've gotta try these 3 while you're here!
Saat Rasta at Monkey Bar
Also dubbed "Trip to Arthur Road", this lethal drink is a criminal combination of Jagermeister, absinthe, vodka, gin, rum, tequila, beer, triple sec, ginger juice and... Fresh coriander! Even though it sounds like a wine shop got robbed before this was made, it's surprisingly yummy.
Shimla Mirch Martini - Social, Multiple Outlets
Arre, we promise we're not partial to martinis. While on the lookout for weird drinks, we were taken aback for a second to find shimla mirch on the bar menu... Until we realized that some (possibly evil) genius decided to make a whole drink that lets actual capsicum grab the spotlight. The magic in this drink comes from the addition of pineapple, and that's what makes the shimla mirch a welcome addition. It tones down the pineapple's fruity sweetness, and gives the drink depth of flavour.
This vodka-based drink will cost you INR 350.
The Californian Plum, Star Anise with Lily, Lemonade Vodka, Smokehouse Deli
Yes, the name's a mouthful. But we promise a mouth full of this will have you buzzed with the happiest high. This is a fresh fruit, herb and floral infusion, and the amazing complexity of its taste has us ordering multiples. It'll cost you INR 475.
We love the cucumber, basil and lavender one, too!
Sikandar, Bombay Canteen
The Sikandar is a mix of Captain Morgan Rum, white rum, brandy, pineapple, spices, clarified milk, green-tea-infused tamarind juice, housemade coconut syrup and lime. Yes... That's a lotta ingredients. But damn, the mix is seriously an art form. We love the addition of the clarified milk and green-tea-infused tamarind juice here! It's what makes it the perfect amount of sweet.
Sandalwood and Berry Old Fashioned at Oi Kitchen and Bar
Y'know how people sometimes call cocktails "well-rounded"? Yeah, for a long time, we squinted hard at the statement, because we didn't quite figure out what that meant. Well. This drink helped a LOT. The berry-infused Bourbon in this drink gives it a fruity sweetness, and the orange bitters amplify that... Until you receive the sweet smell (but mildly bitter taste) of sandalwood. We fell hard for this one. You've gotta try it. It'll cost you INR 525.
Touch of the Phoenix, Tresind
This theatrical AF drink is bourbon based, with a touch of dates in it. We're super tempted to use the wordplay on dates, but we'll avoid it. We love Tresind's polished AF take on cocktails, and since this is a signature mix, it truly embodies their spirit. It's a personal favourite for many of us!
Capi Madras, SamBar
We'll always advocate for more coffee. And that's why we're tucking Capi Madras at SamBar into this (pretty varied) list. This one's a super delish mix of coffee liqueur, vodka and cardamom. It'll cost you INR 275.
Dirty Buns Martini, Dirty Buns
This is the only drink on this list that has pickle juice in it. We know, we know. This is the third martini on this list. But we also know that this list would be incomplete without a drink that sounds this weird. Never fear, though! It's still pretty damn delicious. It'll cost you INR 375.
Comments