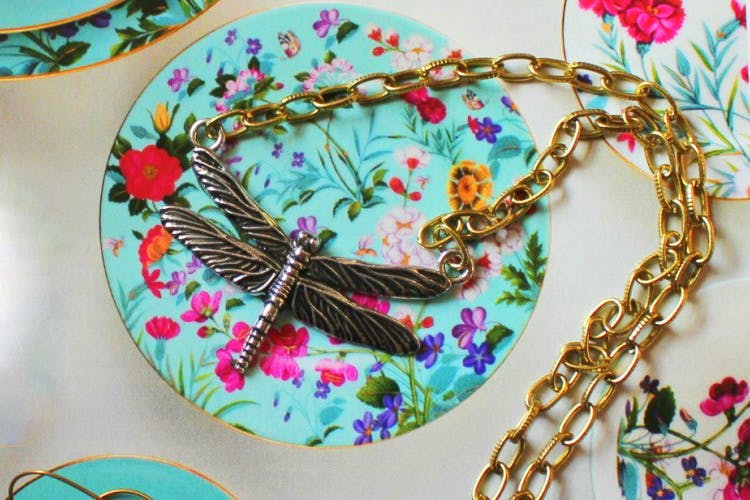 Dare To Wear: Funky Jewellery From This Label Is Designed To Make A Statement
Shortcut
Vitamin K is a jewellery label that comes with a warning: You need to have style to carry their pieces that are far from boring and are bold and funky instead. All designed by the owner, Karishma Shanbhag, each piece is handcrafted by her team who puts together the different elements that Karishma sources from different parts f the country and the world. What's even better is that she makes only one piece per design, so you can be rest assured that what you're wearing is yours alone. Exciting, right?
What Makes It Awesome
Vitamin K jewellery will make you stand out in the crowd. Their range of accessories includes earrings, neck pieces, bangles, brooches, and wallets. The starting price for all the jewellery is INR 650 and goes up to INR 2,000. From tassel earrings, to solid bronze plates, Vitamin K has a happy bunch of cutesy and ethnic stuff.
Her neckpieces are chunky, bound to pop your outfit to add extra to the ordinary. The brooches, primarily crafted out of textured cloth, are amazing to add a dash of colour to a single coloured outfit. And besides the jewellery pieces, she also makes wallets out of pure leather, majorly sourced from Dharavi, which are priced at INR 2,500.
You can check out her collection on her Instagram page, or on her website where you can also place your order. And if extra delivery charges for any shopping annoy you, don't worry about it here. Shipping from Vitamin K is free pan-India.
Pro-Tip
Dare to wear the bold and funky statement pieces from Vitamin K, and own a one-of-a-kind piece that no one will ever have but you! We suggest bold pieces to suit day and night outfits so that you have a piece for every occasion.
More Information
Comments