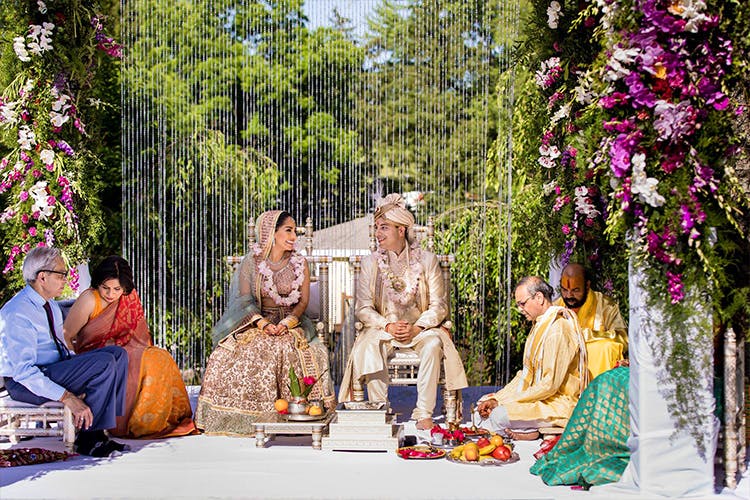 Knot To Worry: Here's Your Checklist To Plan A Fantastic Wedding
Shortcut
Wedding season is fast approaching – it's time for the mad preps before what could be the most important decision you take in your life i.e. spending the rest of this janam with that one person you love.
Of course, the big thing is planning. There are invitation cards, selecting the perfect dress, doing a pre-wedding shoot and finally – if your exhausted body permits it – getting married. Here are some people who can make it easier.
WEDDING INVITES
Probably one of the coolest things to do for your wedding is getting to customise your wedding card. With so many genres to pick from, based on your quirks and personalities, it's always great to see the final product, keeping in mind what you've always dreamed of for your wedding.
Customizing Creativity
Disha and Harsh Munshaw, co-owners of Customizing Creativity (more than eight-year-old design studio), amongst other designs, also specialise in wedding card invitations. It's Disha's background from JJ School of Applied Arts, clubbed with Harsh's management acumen that makes this one a preferred choice.
To know more, contact them on +919819203251
Jimit Cards
Jimit Cards, located opposite Dadar Station (West), is one of the city's oldest wedding card designers. If you visit their website, you can choose wedding cards based on the different themes. You can also get your own custom-made invitation.
To know more, call them on +9198709 57195, (022) 2438 6522
Creative Concepts
This small start-up by Adnan Kanchwala runs out of Andheri-Kurla Road near the Saki Naka junction. Adnan and his family, who are in the typography and printing business, specialise in wedding invitations.
Check them out for their competitive rates, top-quality products and also their sound knowledge of paper.
Contact them on (022) 2859 5645
PHOTOGRAPHERS
Mumbai has a list of excellent wedding photographers, who do both candid and traditional shoots. While some are established, others are slowly and surely finding their footing in the field.
Precisely Picturesque Photography By Shreya Shetty
Shreya, an alumnus of Sophia College's BMM programme, loved taking pictures even while she was a student. She then applied for a six-month photography course in Greece and came back to start Precisely Picturesque Photography.
She charges INR 35,000 per day for shoots, but has special packages if the shoot lasts more than three days. In addition, Shreya has for this wedding season thrown in a complementary pre-wedding shoot as part of her package.
You can get in touch with her on +919819889974
Little Big Weddings
Started by Madhura Lingayat, Little Big Weddings does photography, cinematography, drone photography, drone videography, post production and a series of other things that will surely leave you spoilt for choice.
The team has received a lot of praise for their candid pre-wedding shoots. Their prices start at INR 1,50,000 per day, and can vary depending on your requirements.
You can visit them on their website, or contact them on +91 98197 75353
Jodi Clickers
One of the first ones to establish themselves in the city, this Andheri West-based photography company also runs operations in the national capital and Kolkata.
Since inception, they claim to have shot over 150 weddings, engagements and functions. Their wedding photography caters to the Indian and the South East Asian markets and they charge INR 60, 000 per day.
To know more, contact them on +91 9702524334
WEDDING FABRICS
If you're hunting for the perfect wedding gown, we've got just the place for you. Michelle Rodrigues, a Bandra-based designer custom designs wedding dresses for to-be brides and not just that, she also designs cocktail dresses, evening gowns, bridesmaids dresses and a lot more, catering to a wide audience. Take a look at what she has to offer on her Facebook page.
You can book an appointment on +91 77109 90757
Email: michelledrodrigues@gmail.com
Gandhi Market, Sion
Another hotspot for wedding shopping, it houses an array of fabrics for all your wedding needs. Right from 240 GSM raw silk (get set to increase your IQ on such terminology once you start bridal shopping) to beaded fabric, Gandhi Market certainly knows how to please you!
Note: The market is shut on Mondays.
Saroj Fabrics
If you're unable to visit Crawford market for your fabric needs, you can sit back, relax and browse online at Saroj Fabrics. An online store that deals in all kinds of fabrics ranging from plain to embroidered and printed, you're likely to find the material of your dreams if you spend some time going through their vast collection on their website.
Contact them: +91 99300 27480
WEDDING PLANNERS
The perfect wedding plan can help ease you into the frenetic preparations for your wedding and who better to help you in that department than your very own wedding planner?
Get your costs in order, take your pick from a variety of choices that still fit your budget and have all those teeny tiny details that usually slip one's mind taken care for you, with our curated list right here.
Pro-Tip
Don't forget to visit Mangaldas Market (fabulous fabrics at cheap rates), Zaveri Bazaar (largest jewellery and diamond market in the city) and Juhu Tara Road (famous designer labels for big budgets) for all your other shopping needs.
Comments