The information in this post might be outdated
Now You Can Get Jasmine, Rosemary And Betel-Flavoured Beer At Woodside Inn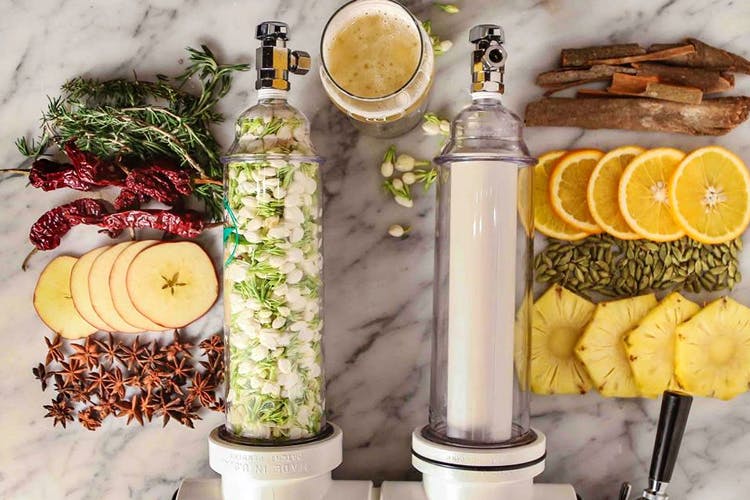 Delivery Available

Wi-Fi Available
Shortcut
Woodside Inn is now going to serve infused beer with unusual but perfectly paired flavour. We dig deeper.
What Is It?
A device they've named 'Randall' – it is their boy wonder, so to say. Randall infuses flavours from herbs, flowers, leaves into your mug of craft beer. Developed by Dogfish Head founder and President Sam Calagione back in 2002, it is a sophisticated filter system that allows the user to run draft beer through a chamber of spices, herbs, fruit, etc. so that the alcohol in the beer strips and dissolves the flavour from anything you add in the chamber beer.
One can expect flavours from fruit peels, spices, flowers, teas and herbs. Priced between INR 245- INR 295, Randall will be dispensing beer once a in a month at one of the Woodside Inns in the city, that started with Lower Parel. They launched with Gateway Brewing Co's White Zen, Doolally's Gose and ever popular Kingfisher lager flavoured with mogra, herbs like thyme and rosemary and betel leaves.
So, We're Saying...
If you like your craft beer innovated, Randall is what you should look forward to.
Delivery Available

Wi-Fi Available