The information in this post might be outdated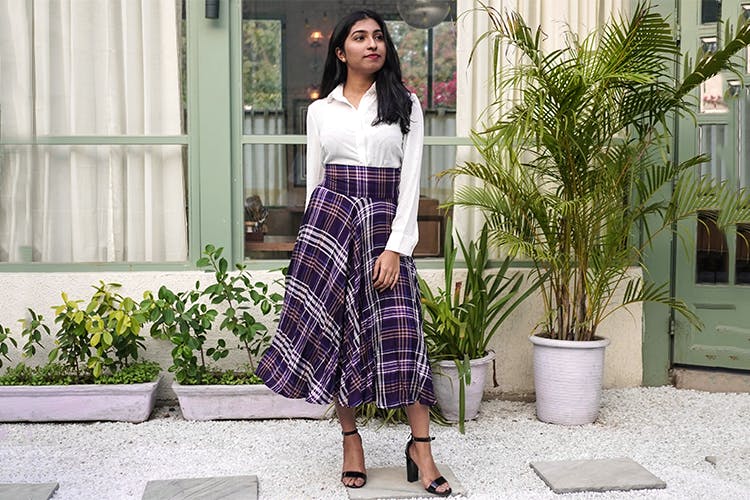 5 Days, 5 Looks: Revamp Your Work Wardrobe With This Guide
Run-of-the-mill workwear, not your style? We found Runwayin.com that will surely up your office routine with elegant pieces in breathy fabrics, playful prints, and modern designs. So you won't have to worry about wearing the same old formal tops-and-trousers every day. Inspired by their collection, we put together a quick guide to help you slay through the daily nine-to-wine!
Cracker Client Meetings
Stepping out of the office to crack that deal with the (fussy) client? Put on the bold look with this wine-coloured belted straight fit dress that's absolutely no-mess and the solid color causes no distraction. We especially love the belt as it defines the frame well. All you've got to do is fasten the dress with the zip and you'll be ready in an instant.
Elegant Style For Seminars
Got that big seminar coming up with the entire leadership team? Stand out in the crowd with this set of classic pink top with tie-up sleeve and the high waist wide-leg beige trousers. Survive through the full day of discussions with the trouser's flowy fabric and its dart detail adds to the oomph. The satin top with tie-up sleeves is a worthwhile wardrobe investment in itself.
Prepare For 'Em Brunches
Client briefs may never end but it's always a good decision to step out for a mid-week casual brunch with the work squad. This brown suede full moon skirt looks just right with the flowy silhouette of the full-moon flare. Pair it with the lightweight yet dressy black top with printed neck-tie and a pair of black boots.
Attention For Presentations
So, We're Saying...
Day or night, you can rely on this brand to turn around your work wear wardrobe effortlessly. Some of their pieces are a bit on the higher side, but then again, with garments so fabulous, you won't end up wearing the same as others. Take your pick from their collection and let us know in the comments below about your favorite style.
Comments